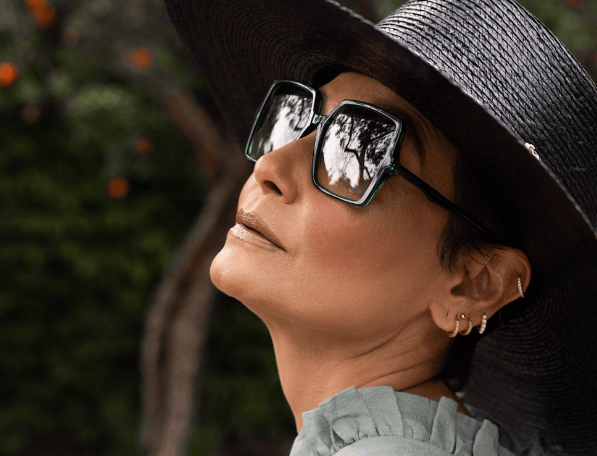 5 Eyewear Looks From New York Fashion Week 2023 and How To Recreate Them
New York Fashion Week is one of the best places to look for eyewear inspiration. In February 2023, we saw multiple collections featuring modern eyewear. Attendees were also wearing trendy eyewear pieces—from tortoise shell glasses to futuristic frames. If you want to get the trending eyewear looks from NYFW, Vint & York has a variety of collections and frames to elevate your style.
1. Oversized Square Frames
Oversized square frames were everywhere at NYFW. This style is versatile, bold, and sure to attract attention. When assembling your spring outfits, don't forget to include some of these square-framed sunglasses or prescription lenses.
Sunglasses 
If you want oversized square sunglasses similar to the ones seen at NYFW, try our Piazza frames. These luxury frames are handmade in Italy and come in four colors: black, tortoise, transparent green, and nude beige. They fit oval, round, heart, and oblong face shapes. The Piazza frames look great dressed up for special events or dressed down for more casual street style. Our Cecile frames are another oversized square style that can be used to achieve the oversized NYFW eyewear look. Their square shape is a bit softer than the Piazza and can bring a bold feminine look to any outfit. Cecile comes in cognac tortoise, jet black, and nude beige.
Eyeglasses
Get the oversized square eyewear look seen at NYFW with a pair of our fashionable prescription eyeglasses. One of our favorites, Glacier, looks delicate while still being a sturdy frame. Glacier features thin wire arms with defined, oversized square rims. Glacier's color options are tortoise shell, clear, and grey crystal. If you are interested in square eyeglasses with fun frame colors, check out our Bluegrass frames. Bluegrass comes in shades of transparent blue, green, and nude beige.
2. Rectangular Frames
Rectangular frames stole the show at NYFW 2023. Rectangular glasses are similar to our square frames, but they have a narrower silhouette. If you want to add sophistication and retro style to your look, consider adding some traditional or statement rectangular frames to your wardrobe. Our Killa is a great option to incorporate both rectangular frames and cat-eye eyeglasses.
Sunglasses
Try out our Chassis sunglasses to add an element of femininity and chic sophistication to any outfit. Try our Chassis frames in black or cognac tortoise if you prefer a sleek look. Choose our fancy purple color option if you want your Chassis frames to make a playful statement. You can also try one of our luxury rectangular frame options, Luce. Luce sunglasses are hand-crafted in Italy and are part of our Dolce Vita collection. Choose from blue, carmine, green, or honey Luce frames and put a retro spin on your spring outfits.
Eyeglasses
If you are after rectangular eyeglasses that make a statement, our Sfizio frames may be just what you are looking for. Sfizio's rims are thick with sharp angles and work well with oval and round face shapes. These stunning frames come in black, champagne, dark tortoise, and transparent grey. Our rectangular Eugene eyeglasses have a more sophisticated and subtle look. These lightweight frames have thin wire rims and come in blue or black.
3. Cat-eye Frames
Cat-eye frames are well-loved by NYFW designers and attendees for their versatility. Cat-eye glasses can add elegance and class to any outfit. With a pair of these glasses, you can mimic some of the bold looks seen on the streets of New York.
Sunglasses
Vint & York's luxury Plaza frames are an oversized cat-eye style. These sunglasses are the perfect statement piece to add to any wardrobe. As with many of our other luxury frames, they are handmade in Italy and are made with high-quality materials. You can find Plaza in ivory pearl, jet black, or tortoise. If you are after a more dramatically pointed pair of cat-eye frames, check out our Myrtle sunglasses. These daring, regal frames are available in black, icy pink, and teal on peach.
Eyeglasses
If you want prescription cat-eye glasses that will attract attention, then try our Belair frames. Our Belair frames are oversized and come in three iconic color and pattern options, including black and teal two tone, leopard print with black temple arms, and plum royale with multi-colored tortoise temple arms. Try our Cats Meow glasses if you want a pair of smaller cat-eye frames. Our Cats Meow frames come in neutral colors like cream beige and honey stripe. They also come in spunkier color options like cranberry splash and royal purple.
4. Oversized Round Frames
New York Fashion Week featured many futuristic eyewear styles, many of which included oversized round sunglasses. If you want to try the oversized round trend without the futuristic style, try some of our vintage-inspired oversized round frames.
Sunglasses
Our popular Grandiose glasses are luxurious, daring, and bold. These geometric frames with round lenses are part of our Little Pleasures collection. Grandiose frame colors include pink tortoise, black, transparent green, and tortoise. For another oversized round style, check out our Moll frames. Named after the fierce Molls of the 1920s gangster scene, these sunglasses are stylish and striking. They have a bold circular silhouette and come in ivory sparkle, cognac tortoise, and carbon black.
Eyeglasses
If you want oversized round eyeglasses with a NYFW futuristic flair, try our Infinito eyeglasses. These chunky round frames come in dark tortoise, blue ocean, black, and dark tortoise. If you are looking for a classic round frame, our Paramount II glasses have chic, Hollywood-inspired round lenses with long, delicate arms. These lightweight frames are available in clear, honey, and red.
5. Aviator Frames
Aviators are a versatile frame style that can be used with both sophisticated and casual outfits and were spotted at NYFW this year. While aviator frames are commonly associated with sunglasses it, aviators with clear or prescription lenses are becoming more popular.
Sunglasses
Whether you're walking the streets of New York or vacationing on the beach, our luxury aviator Devon sunglasses can protect your eyes and elevate your style. Our Devon aviator sunglasses are lightweight and come in dark gunmetal grey and shiny gold. For a aviators with colored frames and lenses, try The Fairbanks in burgundy red or teal blue with gold accents. The Fairbanks also come in a neutral-toned brown with gold accents and an all-black frame and lens option.
Eyeglasses
Our square aviator eyeglasses, Attaboy, add an element of confidence and retro style to any outfit. Attaboy's stainless steel rims come in jet black, treasure gold, and gunmetal silver. For an aviator prescription glasses style with slightly thicker rims, try our Snazzy style. Our Snazzy frames come in two-toned amethyst, black on crystal, and cognac tortoise on crystal.
Get NYFW Looks With Vint & York Tortoise Shell Glasses and Other Styles
At Vint & York, we design and create modern glasses that incorporate vintage-inspired elements for the modern nostalgic. All of our eyewear is designed by our talented team in New York City, and our luxury pieces are hand-crafted in Italy with the finest materials. Whether you are looking for tortoise shell glasses, wire-framed sunglasses, or tinted cat-eye styles, our eyewear collections will have you runway ready for the next New York Fashion Week. To get sophisticated eyewear that meets your vision needs while making a fashion statement, order your prescription frames and sunglasses from Vint & York today.