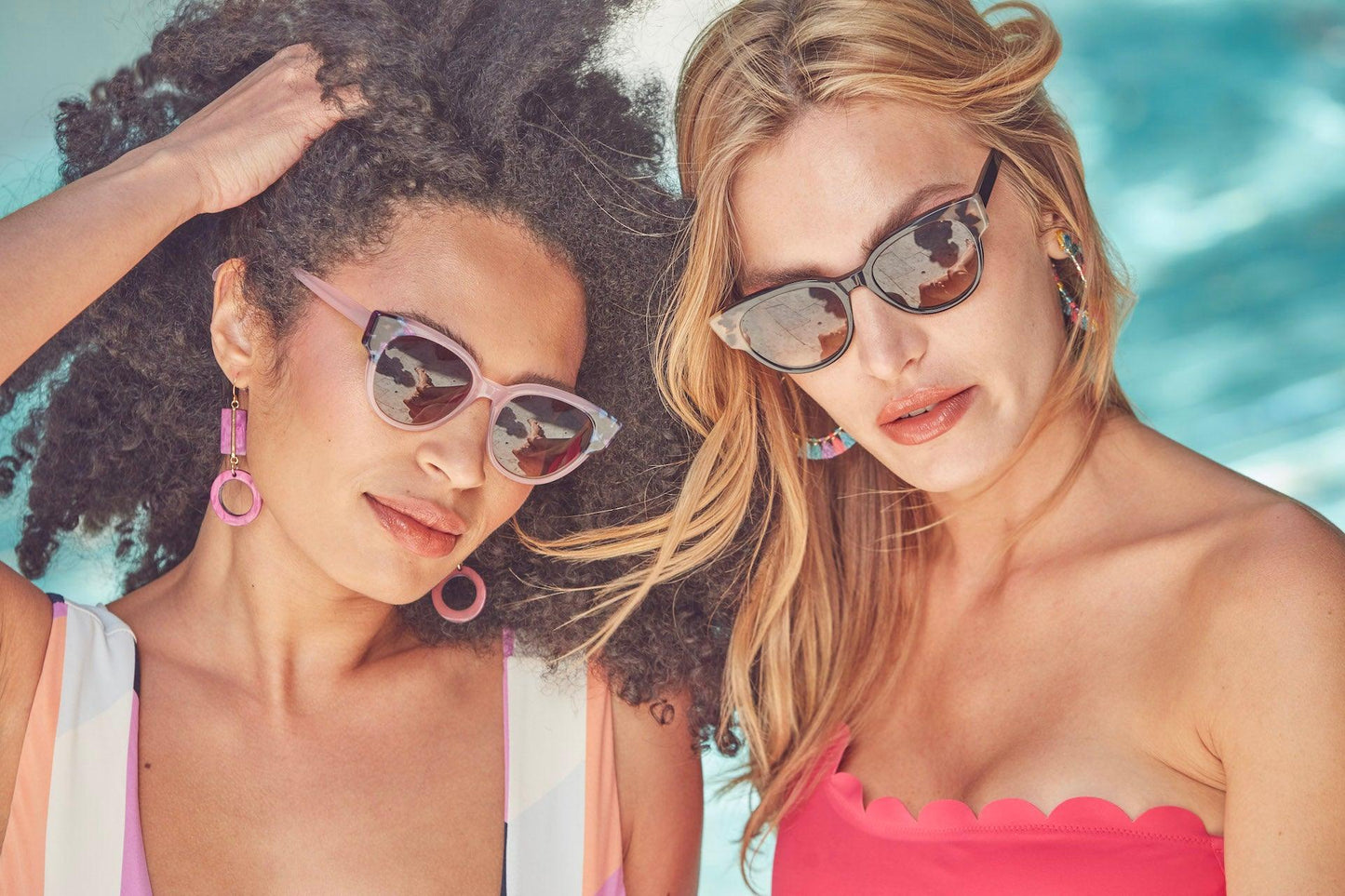 Characteristics of High-quality Sunglasses for Women
High-quality sunglasses can make all the difference when it comes to protecting your eyes in the outdoors. At Vint & York, we offer high-quality sunglasses for women and men. Here are some characteristics that each pair of our sunglasses has: 
Sturdy Frames
We choose high-quality materials to create our sunglasses. Our sunglasses are made from celluloid acetate, stainless steel, and other high-grade materials. We make each unique frame with materials that can withstand the wear and tear of any adventure. Whether you're wearing them to run daily errands or on a cross-country backpacking trip, our sturdy sunglasses frames are built to last.
Strong Hinges 
Hinges are a key component of high-quality sunglasses. Hinges made with premium parts can keep sunglasses functioning optimally after years of wear. Low-quality hinges can easily break or bend, creating a misalignment in the fit of your sunglasses. At Vint & York, we use premium hinges that help your sunglasses open and close properly while maintaining their structural integrity. 
Protective Lenses
The lens type is another element of high-quality sunglasses. At Vint & York, we offer two main types of lenses for your sunglasses. You can choose between tinted lenses or polarized lenses. High-quality sunglasses protect your eyes from the harmful rays of the sun. Each pair of our sunglasses comes with lenses that have UV400 protection. This means our lenses protect your eyes from almost all harmful UVA and UVB rays. Our sunglass lenses can also be made to fit your prescription, so you don't have to sacrifice clear vision for protection. 
Sizing Options 
Another characteristic of high-quality sunglasses is a variety of sizes and dimensions. At Vint & York, we clearly state the dimensions of each pair of our sunglasses in the product description. We know that our customers have unique face shapes and sizes, so we offer a virtual try-on platform so you can see how our sunglasses will fit before you buy them. 
Warranty Period
At Vint & York, we understand that accidents happen and your sunglasses may need to be replaced. We offer a 365-day warranty on all of our sunglasses because we want our customers to be fully satisfied with our products. Our sunglasses are highly durable, but we provide a one-year warranty to make sure your frames are extra protected.
Storage Case
High-quality sunglasses come with a storage case to keep the frames and lenses in the best possible condition when they're not being worn. Vint & York sunglasses come with a case to keep your sunglasses protected. Store your sunglasses in the case to reduce the likelihood of losing or misplacing them. A storage case can also keep your sunglasses safe from scratches or breaks.
Vint & York and Sunglasses for Women 
At Vint & York, we make high-quality sunglasses that are built to last. We offer sunglasses for women and men with polarized or tinted lenses. We have many different frame collections and styles for you to choose from. Contact us today to learn more about our sunglasses and the high-quality lens and frame materials we use.