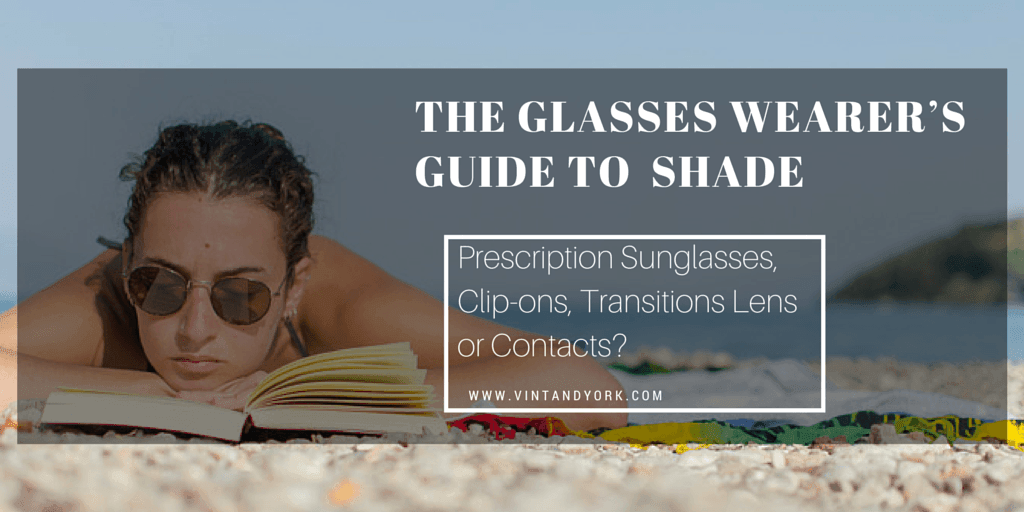 Sunglasses: Prescriptions, Clip-Ons, or Transitions?
What options does an eyeglasses wearer have in the sun? Whether you're reading on the beach or walking on a brisk, wintry day, you need sun protection for your eyes. Your prescription glasses will correct your vision but will not help with squinting from bright sun or glare from water or snow.
This guide will help you decide which option is the best for your needs, style, and sight.
Sunglasses: What Are Your Options?
The following guide will help you understand the benefits of the different options for sun protection for your eyes.
1. Prescription Sunglasses
What are prescription (Rx) sunglasses?
Prescription sunglasses are just like your regular, fashionable sunglasses, but your vision prescription is in the lenses. They allow you to see clearly while protecting your eyes from harmful UV rays and making you more comfortable outdoors in the sun. This makes Rx sunglasses a popular option for sun-seekers.
Tip: All our sunglasses can be transformed into prescription sunglasses !
What do prescription sunglasses cost?
Sun should be a reason for fun. That's why we make prescription sunglasses at affordable prices, starting at $129. At Vint & York, we want you to be able to enjoy fashion frames and be able to see with your prescription no matter how sunny it is outside!
With style in mind, you're likely excited to have some new eyeglasses frames in your collection. Sunglasses come in great styles that can revamp your look!
Prescription Sunglass Options
Vint&York's prescription sunglasses are made with high-quality frames and lenses. The lenses are polycarbonate with premium anti-reflective and anti-scratch coatings and 100% UV protection.
The lenses are available in single vision, traditional bifocals, and progressives .
Lens Color. The most common colors for sunglass tints are grey and brown. If you are very sensitive to light, consider a dark tint that blocks 80% of light. If you aren't that sensitive, a lighter tint that blocks 50% of light should be enough. Polarized lenses are available if you spend a lot of time on the water or in the snow. They are excellent for blocking annoying glare.
Frame Type. Almost any type of frame can be fitted with prescription sun lenses. You don't have to sacrifice your style for sun protection.
Contact Lens Wearers. Contact lens wearers need good quality, non-prescription (plano) sunglasses to wear when they're out in the sun. You might be a contact lens wearer who prefers not to wear your lenses at the beach or when swimming, so sand and water don't irritate your eyes.
Prescription sunglasses allow you to leave your contacts out when outdoors without sacrificing clear vision. And you'll still look great!
Kids. If you're a parent who wants to make sure their child has sun protection outdoors, check out the Petite collection to find a frame that's right for your child's prescription.
2. Clip-On Sunglasses
What are clip-on sunglasses?
Clip-on sunglasses provide a simple, inexpensive alternative for sun protection. Switching back and forth from regular prescription glasses to a separate pair of prescription sunglasses can be inconvenient and puts wear and tear on both pairs of glasses.
Clip-ons come with their own small, thin carrying case. This eliminates the need for two bulky cases for two complete pairs of glasses. The cost of clip-ons is considerably less than a pair of prescription sunglasses.
Clip-on sunglasses are popular and stylish, especially in metallic, steampunk inspired frames, like the ones below, named The Charleston and The Firm
Types of clip-on sunglasses:
Standard clip-ons – Fairly inexpensive, but plastic ones can be flimsy.
Magnetic clip-ons – They actually have no clips at all. The magnets in the clip-on and the underlying frame allow the clip-on to snap into place.
Flip-ups – They stay on your lenses and just flip up and down when you need them.
There are also some disadvantage to clip-ons:
Since regular eyeglasses tend to be smaller than sunglasses frames, the coverage and protection might be less.
They can be fragile and prone to breaking.
You need steady hands to attach clip-on to the frame.
You need to be careful not to scratch your prescription lenses with the clip-on.
Despite these negatives, clip-ons are a viable and affordable option for sun protection for your eyes.
3. Transition™ Photochromic Lenses
What are tranisition™ photochromatic lenses?
Transition™ photochromic lenses change color in response to UV light from the sun. They are clear indoors, gradually darken when outdoors, and automatically lighten again when you return indoors. This is a very convenient option especially when continually changing your environment like when going in and out of stores while shopping.
Transition™ lenses add expense to your glasses but you are getting regular glasses and sunglasses in the same pair. Although Transition lenses are a convenient option, some people still like to have a separate, dark pair of prescription sunglasses. Sunglass frames tend to be larger for more coverage. And regular sunglass lenses can be ordered as dark as you want.
Also bear in mind that standard Transition™ lenses are not appropriate for driving because the car's windshield blocks most UV rays. If you want to use your Transition™ glasses for driving, you need to pick Transition Drivewear® sun lenses, which darken in natural light as well as in UV light.
If you want to order a pair of Vint & York glasses with Transition™ lenses, contact us by e-mail or phone and we'll be happy to help you!
Closing Thoughts
There are many good options in our sunglasses collection when it comes to eye protection from the sun. Whether you choose prescription sunglasses, clip-on sunglasses, or Transition photochromatic lenses, Vint & York has you covered.
TIP: Prescription sunglasses are also covered by FSA insurance.
The prescription sunglasses frames available at Vint & York come in many styles, from cat eye to clubmasters & aviators .
Who doesn't want to look amazing and be able to actually see just how great they look?