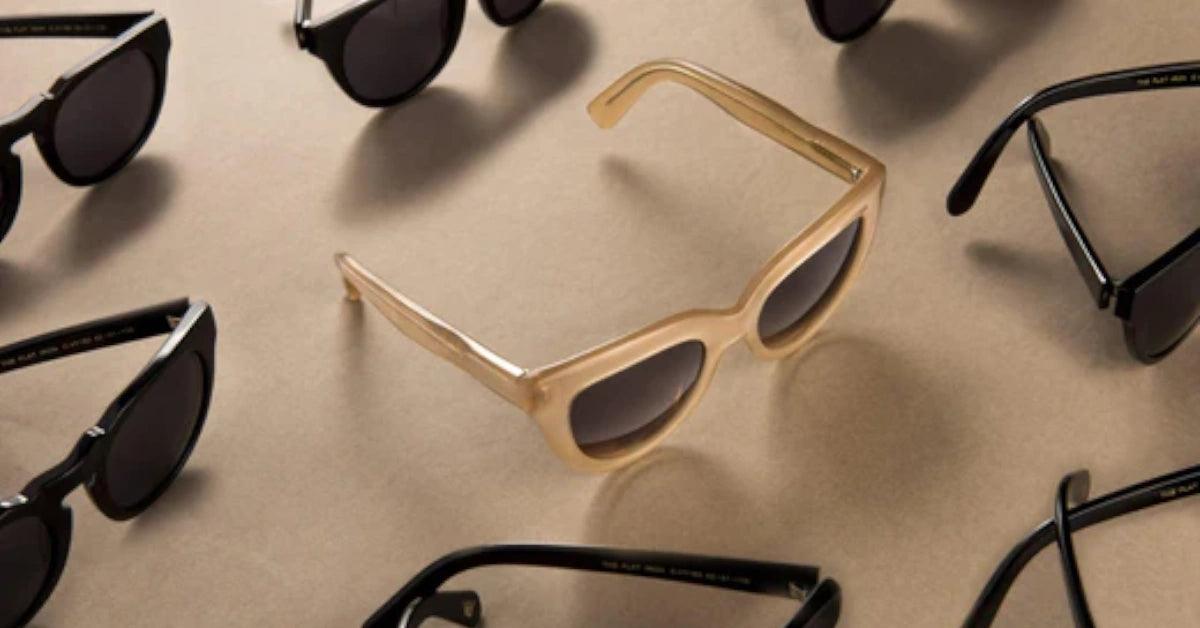 Hottest Sunglasses Trends of the Season
You don't need a blazing sun to wear sunnies but it's definitely an incentive. Since summer is just around the corner, it's time to up your game with the hottest sunglasses of the moment.
Don't worry, you don't have to scour the earth to find the perfect sunglasses to suit your personality. We here at Vint & York have surfed the runways for you so we could deliver a lineup of designer-approved shades. That's right, we've rounded up the latest sunglasses trends for you to try on — right here on the Vint & York website. From round sunglasses to square sunglasses, vintage to modern and neutral to brightly colored, we found have the best out of the spring and summer sunglasses collections.
Keep on reading to find the pair of sunnies that are both popular for the upcoming season and perfect for your individual style. So sit back, relax and get ready to be wowed by the latest sunglass trends.
POPULAR SUNGLASSES TYPES & TRENDY STYLES FOR 2023
This year's sunglass trends favor strong geometric sunglasses frames and vibrant colored sunglasses inspired by styles of the late '90s. Have no fear if you dig the vintage-inspired looks; you'll still find your classics. Just be prepared for nice twists and touches that will make you stand out while still keeping it low key.
Small '90s Skinny Sunglasses
While those tiny, impractical sunglasses that appear way too small for any UV protection might be out, that doesn't mean you still can't go small in 2023.
A staple back in the '50s, then again in the '90s, slim and tiny frames came back with a vengeance last year and rapidly gained followers that swear to this style. Celebrities like RiRi, Kendall, and the Hadid sisters added them to their daily wardrobe, wearing them with both casual and red carpet outfits (thanks, Rihanna!).
There's a debate around skinny sunglasses with some saying they don't offer that much sun protection, but they're so high-fashion that no one is able to stop themselves from joining the crowd. Make sure you pick lenses with maximum UV protection (400) just for good measure.
If you want to exude confidence wherever you go then small and skinny shades are just the thing for you. To keep the vintage '90s vibe, look for clean, slightly upswept silhouettes and dark lenses such as Vint & York's Flapper Sunglasses or Chassis Sunglasses.
For a unique '50s style frame, light colors and a classic cat eye sunglasses, Vint & York's Cats Meow Sunglasses are your best bet. The pointed ends scream drama and will transform your appearance immediately.
Mirrored Lens Sunglasses
Want to shine like the sun this summer? Then mirrored frames were made with you in mind. Although flashy and quite frankly, intimidating – how do you feel when you talk with somebody while staring at your own reflection? – reflective sunglasses can be both classy and stylish. Take a look at Olivia Palermo, a long-term fan.
Choose Vint & York's On the Up and Up Sunglasses with blue mirror sunglasses lenses if you're on the blonde side to contrast with your hair. Otherwise, go for the gold finishing to illuminate your face.
Clear Sunglasses
On the opposite end of the spectrum are translucent clear sunglasses frames. They are in tough competition with brightly colored frames for the designation of sunglasses of the moment. Seemingly inconspicuous, clear and translucent sunnies are anything but.
Subtle and fashion-forward at the same time, transparent glasses frames are here to stay. You can choose from colorless, clear versions or their bolder and more colorful counterparts.
Stylish Color Tinted Sunglasses
One of the biggest sunglasses trends that rose from the ashes last year and keeps burning today is the tinted glasses lenses. This sunglass style comes with a rainbow of pastel color options for the lenses. That means you can take your pick. Choose from sunglass lens colors that range from light blue and sunshine yellow to pink and burnt orange .
While super cool, these glasses are not quite sunnies. They don't offer much protection from the sun if you'd be wearing them on the beach. You can instead think of them as an accessory that will dress up any of your spring outfits. These color-tints align perfectly with a wide range of personalities. Just look at how different they look on Millie Bobby Brown, Selena Gomez, Elton John and Ozzy. Each celeb brings their own unique style to the sunglasses, and you can too.
More often than not, you'll find color-tinted round sunglasses frames, perfect for square-shaped faces. Don't worry if you have a round face, Vint & York still has you covered. Check out how bad-boy-cool you can look with our square sunglasses in pastel blue.
If you want to stand out from everyone else, choose a timeless double-bridge style that will definitely get you noticed. There's nothing like a subtle tortoise shell sunglasses to show off your distinctive sense of style.
Oversized '70s Square Sunglasses
Retro-vintage has been the rage for some years now. One way to rock retro-vintage sunglasses is with square and rectangle sunglasses frames inspired by grandad's eyewear. This vintage-inspired sunglass style can easily become any fashion savvy's favorite. Practical and trendy, these frames are ideal for the summer months, offering full protection from the sun's wrinkle-causing rays.
Oversized frames like the Vint & York Ritzy Eyeglasses give you that mysterious appeal, while the square shape accentuates your angular features for a more defined look . These thick red sunglasses frames are your ally if you want to keep all eyes on you.
If you're more into subtle accessories, then keep up with the latest sunglasses trends with translucent acetate frames or exaggerated square shapes. The Vint & York Keen Eyeglasses deliver translucent acetate frames with plenty of panache, while our Beatrice Sunglasses frames dominate the exaggerated square realm.
Square shaped frames are especially flattering for round and oval faces, so you're in luck if you've got one of those. Find out The Best Glasses for Your Face Shape.
.
Revamped Aviator Sunglasses
Timeless and flattering to both men and women, aviator sunglasses are a popular choice for summer eyewear. This year's aviator-style goes beyond the norm, introducing sporty silhouettes and both retro and modern styles in classic and oversize options.
A pair of iconic retro glasses can take any guy's accessory game from zero to hero. Get a mean-looking pair of vintage aviator oversize sunglasses for your very own interpretation of '70s bad-assery.
Big Cat-Eye Sunglasses
Oversized cat-eye sunglasses are the rave this season as well. Reserved only for women, this feminine silhouette is perfect for elongating the face and emphasizing the cheekbones . These look-at-me glasses also add a certain retro- vintage touch to your style.
This year's sunglasses trended include both old school, large cat-eye sunnies as well as modern takes on them. If you're more of a classic yourself, try the Vint & York Doll Too Sunglasses, a black cat-eye frame that will make you look and feel like a million dollars without even trying.
The tortoiseshell pattern will never go out of style. Mix them with a big cat-eye frame and you tick off two of the hottest sunglasses trends of the year.
But if you're feeling particularly brazen, try the maxed-out Vint & York Zelda 2 Sunglasses in modern patterns . This semi-rimless cat-eye pair of sunglasses explodes with personality and confidence , making it clear you're either going for big or going home.
If it's still not enough, pull all the guns and show off your inner diva with the Vint & York extreme version of the cat-eye sunglasses style. The details are everything this season, and you'll have them down pat in this pair of sizzling sunnies.
Cool Flat Top Sunglasses
One of the most recent designs to take over the 2023 sunglasses trends is the flat top sunglasses. Look for metal double-bar details that will elevate your outfits or play it cool with a polished old-school D-frame.
Usually with angular details, this style is flattering for both men and women. These sunglasses give you a cool vibe that will surely make you stand out.
Also dubbed as shield sunglasses , large square-shaped sunglasses are a favorite of J.Lo, Kim K. and Victoria Beckham. The Vint & York Great frames will channel your own inner star while offering maximum protection when you bask in the sun on the beach.
This style works really well for both men and women, and it's got a very cool allure thanks to its angular details. Grab them for a festival, a road trip or any other adventure you're embarking on this summer.
Competing with their square counterpart is the circular round frame style. Ideal for faces with angular lines , these babies are the perfect addition to any outfit and any type of summer outing that requires the coolest sunglasses around (pun intended).
Go for an acetate frame if you want a more contemporary casual look in sunglasses. You can also opt for ultra round wire specs to take your sunglass style straight back to the 1970s.
Fan of the macro trend ? Don't worry, it doesn't skip round sunglasses. Oversized round lenses, like the Vint & York Chelsea Sunglasses or Bluenose Sunglasses, need to be part of any fashionista's wardrobe this summer.
Retro "Don Draper" Metal Frame Sunglasses
Reminiscent of John Lennon's iconic round eyeglasses and the hippie era, metal frame sunglasses are now the go-to accessory of every cool kid on the block. These vintage-inspired sunglasses are also a top pick for creative types that go against the grain.
Thin and lightweight , Vint & York wireframe shades are perfect for festivals and summer getaways .
Geometric angular lines are all over current sunglasses trends. They're even cooler when you combine them with round silhouettes. If your summer plans don't include a trip to Ibiza, these Vint & York flattop metal sunglasses will bring Ibiza to you.
Two-Toned Lens Sunglasses
Semi-transparent lenses are one of the hottest trends of this summer . Fun and quirky, this sunglass style comes in different shapes and sizes. No matter what option you pick, two-toned sunnies ooze that mysterious allure that's so critical to any trendy outfit.
Half-frame sunnies with gradient lenses are your closest allies when you want to construct a memorable sunglasses look without looking unapproachable. Ombre frames are better for places where you want to interact and meet people, like festivals. You'll be able to make eye contact without ever taking them off.
Bold Embellished Sunglasses
If your style is more on the extreme side , then embellished sunglasses will be your favorite sunglasses trend for the upcoming season. When the sun shines high in the sky, these frames will steal the show and make you feel like a queen – or king, if the case may be.
When you wear a pair of detailed filigree cat-eyes or some sparkly round frames, you don't even need any other accessories. Promise.
Men can have their fair share of bling sunglasses. The Vint & York Torpedo Sunglasses has snazzy metal detailing on the brow that will emphasize your mean look.


Double Bridge Sunglasses
A strong presence in sunglasses trends, especially men's sunglasses, is the double bridge shape. These sunglass frames are bad-assness to the hilt. Although not a new entry on the list, adding that second brow bar helped this style stay at the top – flat top, that is.
You can't keep it low key with this oversized aviator style . The gold details will give away your unique sense of style .
Double-bridge sunglasses are not only for the extreme fashionistas, as they are as versatile as they come. Fit for people with a medium/wide face , these Vint & York cool gold metal frames will level up any summer outfit.
Modern Half-Frame Sunglasses
Halfway between rimless retro and the full-frame modern eyewear silhouette you'll find the semi-rimless frames. You don't have to fret about trending, either, as these babies are forever in style. The timeless shape is a must-have, as these sunglasses have been seen on every star that rocks the street style.
These Vint & York round vintage rims in blue acetate are the perfect example of how round shades are evolving. Gradient lenses create an enigmatic look , while the extra-thick rims show that you mean business.
You'd think that sunglasses in light colors would make you blend in. Well, not always. The Vint & York Fitzgerald in greystone may match the beach sand, but they'll bring so much light to your face that you'll easily outshine everyone else.
Vintage Clip-On Sunglasses
Having to always switch between sunglasses and prescription glasses makes summer a pain for eyeglass wearers. But clip on sunglasses are a stylish way to make ends meet in one practical and trendy accessory. These vintage-inspired frames are a necessity for any fashion monger who takes their retro wardrobe seriously.
The Charleston Eyeglasses (left) and Firm Eyeglasses (right)
Round clip-on frames are particularly well-suited for square and diamond-shaped faces, while square frames are ideal for rounder face types.
TRENDY SUNGLASSES COLOR FOR 2023
If you have a penchant for colorful eyewear , you'll be happy with this year's selection. From lipstick colors like red, pink and purple, to yellow and orange , all the way down to blue and green , you'll see them all in the summer sunglasses collection. Don't fret if you're more into the classics. Nude, black and pure white sunglasses are here to stay.
Classic Black Sunglasses
Think of black sunglasses as an LBD for your face. A pair of old-school frames should be part of your accessory collection no matter your preference in style or colors. The Wayfarer and Clubmaster frames are men's favorite, but women can pull them off just as well.
Oversized black sunglasses are incredible sought after this season, adding that extra bit of that dramatic flair you need to turn heads wherever you go.
If you're a die-hard classic fan, you can even opt to get some of our eyeglasses frames fitted with sun lenses, such as the Vint & York Dapper Eyeglasses. You can also get prescription sunglasses fitted in the frames , to save you the hassle of switching between frames.
White Sunglasses
Although a neutral color, white sunglasses can totally rock. Just knowing they were a staple for both Audrey Hepburn and Curt Cobain makes us want to snatch them up anytime we see them
Reminiscent of the '70s, white sunnies need to be your best friend this summer if you're truly into retro fashion.
Pink, Orange, and Red Lens Sunglasses
The time has come for red sunglasses lenses to make an appearance. See-through lenses have never been sexier. Unlike dark frames and lenses, red lenses invite curious looks. They say that you want to be seen.
Colored Tortoiseshell Sunglasses
Horn-rimmed is a beloved pattern that stands the test of time, evolving from the vintage round shape to cat-eye, square, oversize and many other modern silhouettes. Even better, horn-rimmed sunglasses have expanded past the usual brown to the beautiful multicolored tortoise.
Grab a pair of horn-rimmed cat-eyes to show your glamorous style, or step up your game with yellow, amber or even blue tortoiseshell patterns.
Check out Ultimate Guide to Tortoise Shell Glasses to learn more about this incredible style.
Red Sunglasses
In the summertime, vibrant colors are your best ally, giving you a lively allure that will charm everyone around you. In 2023, lipstick-colored frames have staked their claim – people are addicted to their bold and sexy vibe .
Who still sticks by the red is for girls, blue is for boys, should get with the program. These men's red sporty aviators are ideal for a summer outfit of jeans and a t-shirt.
Yellow and Orange Sunglasses
Yellow sunglasses will make a comeback in 2023. A bold yet versatile choice , yellow specs are perfect for the summer months, and even better for fall, adding a touch of color to your earth-colored wardrobe.
You can play it on the clean, simple side with a full-yellow frame like Vint & York Peace Out Sunglasses or Roosevelt Sunglasses. You can also opt to show more of your sassy personality with a yellow tortoise such as Nifty Shades.
Nude Sunglasses
Nude sunglasses frames are ideal if you can't decide which frame in your sunglasses collections is the best fit for your outfit. They are a safe choice and if picked correctly to complement your face shape and color, they will make a statement as any other bold, big and blitzed-up pair of sunnies.
Skin-colored sunglasses give an inexplicable expensive and clean vibe that won't go unnoticed. Grab these nude square frames to top off your formal outfits.
Green and Blue Sunglasses
When you think of summer, you instantly think of colors. Colored sunglasses not only match the sunny weather but also catapult you into high style. Sunglasses in colors like blue and green will contrast beautifully with your skin and help you feel even more confident and amazing.
The aviator sunglasses style is flattering for both men and women. In the summertime, this light blue version will give you an innocent allure, while the semi-transparent blue lens evokes a certain mystery that will make everyone want to know more about you.
WRAP-UP: WHAT SUNGLASSES TO WEAR THIS NEW SEASON?
This year's sunglasses trends have a wide range of options for you to choose from, no matter your preference. So why don't you challenge yourself and get out of your comfort zone with an awesome pair of sunglasses to top off your outfits this coming season?
If nothing caught your eye yet, browse our trendy sunglasses for women and cool men's sunglasses collection for the best vintage-inspired fashion frames!