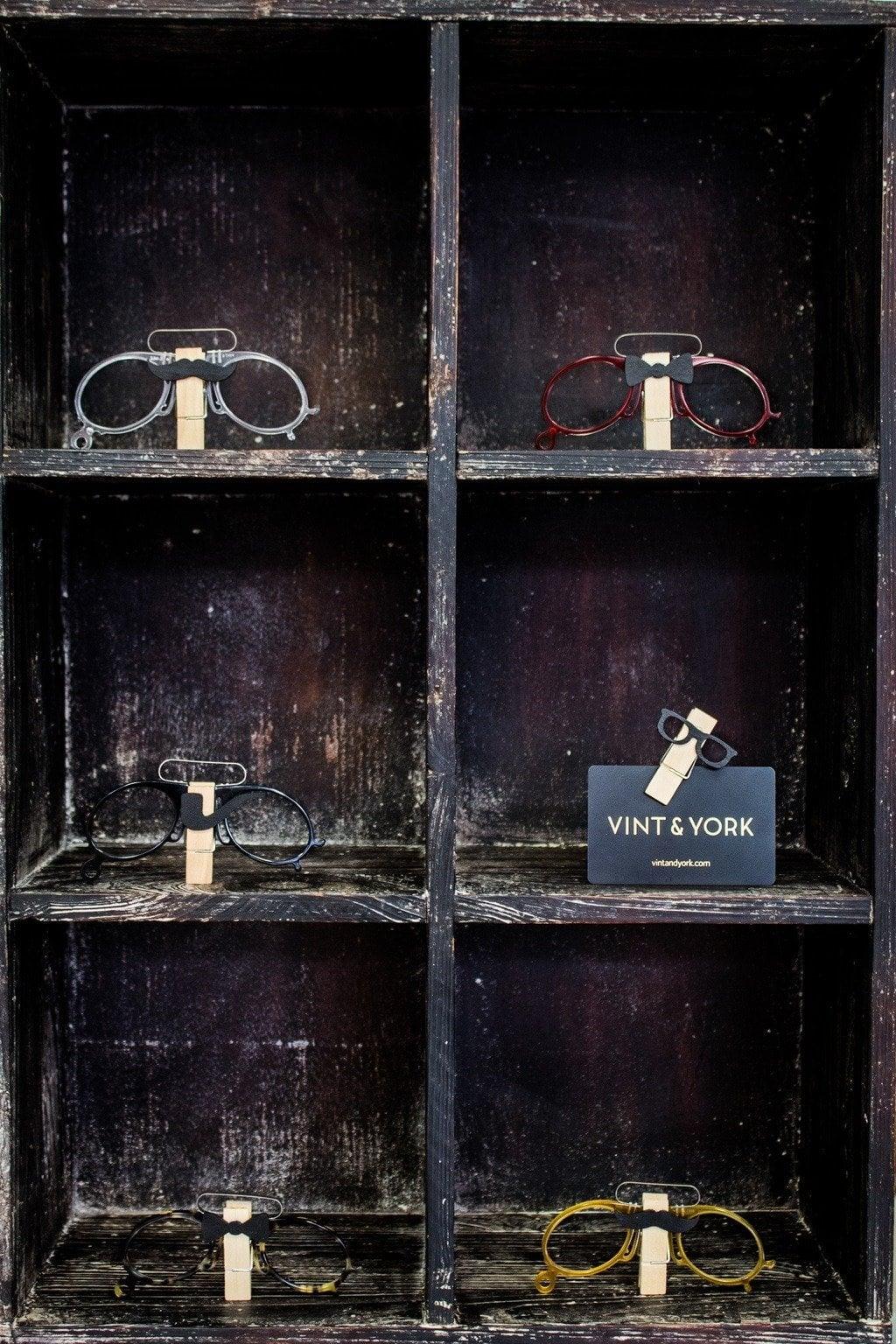 The Pince Nez Frame: Would You Wear A Vintage inspired 19th Century Eyepiece?
Vint & York revives a vintage classic: Pince Nez, the cool reading glasses from a past age!
We released a limited collection based on the 19th century eyewear phenomenon: The "Pince Nez" statement reading glasses , this summer's ultimate vintage accessory.

Are Pince Nez Comfortable?
Designed in NoLita , the heart of fashion avid Manhattan, and handmade in Italy from high-quality acetate in gloss finish, the Pince Nez frames are as durable as they are stylish.
They clip comfortably on the bridge of your nose when you need to see near, and nimbly fold into a pocket when you don't.
They're great when you need a little help reading the menu or skimming through a magazine. The Pince Nez is available in store or online.
What Are the Pince Nez glasses?
Back then…
The Pince Nez frame is a vintage designed style of glasses that became iconic when Teddy Roosevelt started rocking the style in the early 20th century. The Pince Nez frame stays on the face without earpieces, just by slightly pinching the bridge of your nose.
It's also a long lasting, unmistakable symbol of money status and academic achievement, as this the retro cool round frame has been worn by remarkable historical figures.
Nowadays…
Vint & York sees the Pince Nez as a brand piece , a stylish tribute to the past.
One part Roosevelt, one part vintage hipster chic, this frame is an eye catching piece that is bound to be a conversation starter.
These must-have collectible items come with a 109$ pricetag and yes, the price includes prescription lenses as well. To get maximum utility and style they are giving away each pair in a black custom made leather case that fits perfectly in pockets and bags.
How to wear the Pince Nez glasses?
With five colors available to choose from (tortoise shell, clear, black, red and yellow), the limited Pince Nez collection is a quirky accessory that will fit well with every style enthusiast.
These on-the-go pieces can be easily stored anywhere due to their folding mechanism and protective case.
Their originality will excite customers, since nobody expects to stumble across a "Pince Nez" while shopping in 2018 . Actually, nobody expects to stumble across the Pince Nez anywhere, so you might consider taking them with you at a party and have some fun impersonating historic characters.
Their practicality is also not to be taken lightly.
Designed especially to fit in a pocket "The Pince Nez" can be a helpful alternative to reading glasses on the long subway ride back home.
Sit back and relax with a good book or the newspaper, or pull them out when glancing over a menu in the restaurant.
If you are trying to keep up with the growing vintage trend, a Pince Nez accessory is this summer's most unique buy, so take a quick look at what Vint & York has in store!
Where to find a modern Pince Nez frame?
Vint & York is a vintage inspired eyewear shop in New York City. They make frames inspired by the fly guys of 1920's New York. Vint & York's frames feature sleek curves and textures while opting for bright colors over neutrals, and modern twists of classic shapes.
No matter the colour or shape, you'll find that they are offering a whole slew of uber-affordable, vintage-style frames & prescription lenses.