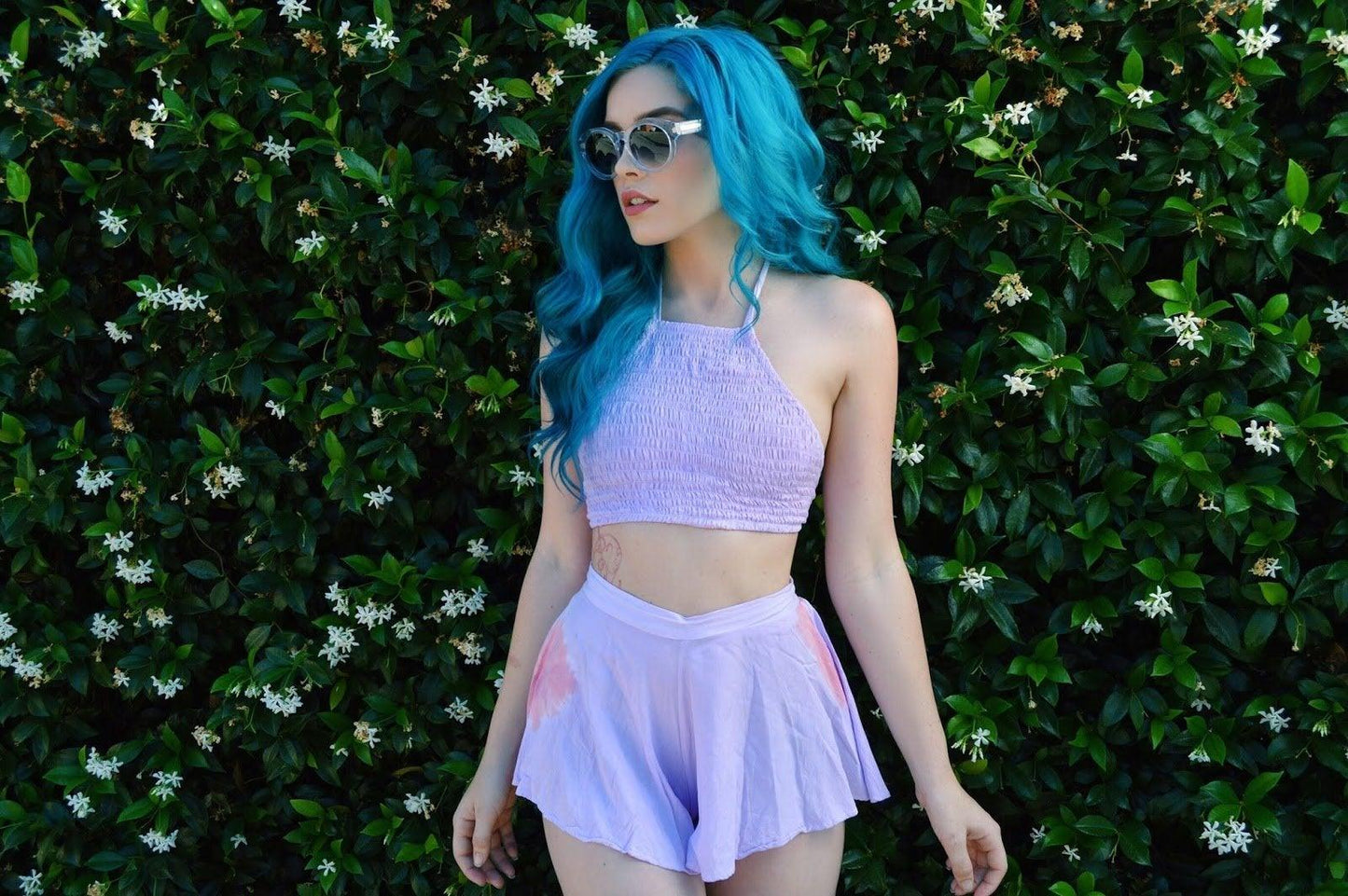 10 Types of Sunglasses Wearers You See at Summer Festivals & Their Survival Kits
Festival season is here, with Coachella and Burning Man just around the corner! It's time to roll out the funky sunglasses, trippy shades & temporary tattoos, colored hair, whip out the selfie sticks and get ready for some serious party time!
No matter if you're a EDM person, an indie rocker or simply a live music lover, Rule #1 at festivals is you have to look good. Because when you look good, you feel good, and no amount of downpour is gonna bring you down. Rule #2 is bring anything that can make spending a couple of days in a field more pleasurable!
We spotted 10 types of festival goers who just can't go without sunglasses. Find out which one you are, in what sunglasses to take center stage & what other festival essentials will make your life easier!
0. The One Who Knows Exactly What to Take to a Festival
Also known as 'the very reasonable festival goer', they've been reported as a dying species ever since '99 (or just about the time the first Coachella or Burning Man was ever held). The number before this type of festival goer indicates exactly how many people of this kind we've seen, so you may not have seen anyone like this either.
Here are the top 3 must-have festival items that these people bring to the party, which you should definitely pack:
<::marker> – sunglasses , so you don't have to squint at the main stage, and protect your eyes from UV rays
<::marker> – a PVC raincoat we hope you never have to use
<::marker> – earplugs, to protect your ears from super loud music & get some decent downtime when there is no quiet area.
We have a complete festival checklist that you can use at the end of this article.
Until then, find some festival inspiration from these ten people right here!
1. The First-Time Camper
This girl brought a rolling suitcase to the festival and she's anxious that her stuff may go missing. She's got no clue how to pitch a tent – and she'll also probably never need to know.
Get her look: Clear Fashion Sunglasses
It's surprising how easy it is to get help when you take festival fashion seriously & you're sporting some ice-cool festival sunglasses . Like Vint&York's transparent COPA or Chelsea sunglasses!
What are her festival essentials?
Not likely to be familiar with the concept of a festival goer's survival kit, but more inclined to bring things like spare sunglasses , fancy shoes & glue (you know, for 'fashion emergencies').
2. The One Who Sees The Whole Festival Through His Phone
This guy is determined to capture the best music moments – or all of them, for that matter – and he's appropriately equipped to do it. Not to be confused with the Selfie Obsessive (#6), this friend is all about filming.
Get their look: 70s Clip on Sunglasses
His festival shades may look like vintage flea market sunglasses , but take a closer look and you'll see how prepared he actually is. With these retro clip-ons , he can quickly adjust to changing weather conditions & get that image exposure spot on.
What's in his festival bag?
This guy is so geared up that he has all the festival essentials for guys, including a head torch and spare batteries. Top of his list is definitely a portable charger (now you know whom to ask!)
3. The Flower Power Girl
This girl knows everything about '70s music and celebrates solstice every year. You'll probably find her dancing barefoot, with a big flower crown in her hair, a pair of oversized round glasses or playing guitar in the shade of a tie-dyed sheet.
Get her look: Hippie Round Sunglasses, a Cult Classic
If she's not wearing boho-chic circular festival sunglasses like these, you can spot her by her long, wispy dresses or colored hair wraps.
What's in her festival bag?
She's known for her frugal ways and usually carries everything in organic cotton bags. Her festival essential kit includes a crocheted outfit, a pair of round, John Lenon-inspired sunglasses , incense, healing crystals and…well, more incense. So whenever you need meditation props or yoga tips, she's your go-to source!
4. The One Who Got Lost Again
..but is already over it. While anyone else would go busking about in a panicked frenzy until they realized no one can hear their ringing cell phones, for this girl this is a gift from above.
Get her look: Oversized Cat Eye Sunglasses
Turns out making new friends (even if they're not human!) is easy as pie when you're donning a pair of crazy & big festival sunglasses.
What's in her festival essentials bag?
Besides the exaggerated cat eye shades , other festival accessories include conversation starters like hair ties, tissues and maybe even some sunscreen. It's surprising how many people ask to borrow stuff – it's not like festivals are in the middle of nowhere…
5. The Ridiculously Fashionable Senior
Take a close look around and you'll see that he's not such a rare bird, though he is great at camouflaging among people half his age. He obviously manages this by only wearing the best festival sunglasses, which are appropriately matched to his outfit.
Get his look: Flat Top Stylish Sunglasses
What are his festival essentials?
There's no point asking about his festival packing essentials because, while he may be into music festivals, he's definitely not into camping. With age comes wisdom. And class!
6. The Selfie Obsessive
Day or night, rain or shine, this friend will record everything with their face in close-up. This means her look is always on point and sometimes, her Instagram-ready festival sunglasses often attract other cameras. Keep around and you just might end up in some official photos or even after movie!
Get her look: Trendy, Funky Cat Eye Sunglasses
What's in their essentials bag?
She's only got a couple of essential items – yep, you guessed it: a selfie stick, a cell phone, a charger (so important) & a pair of fashion festival shades that scream latest trends.
Voted most likely to wear the best fashion outfit of the entire festival grounds and write a "How to festival" posts that will go viral. Time to make some #Instamemories #ootd #festivalfashion!
7. The Party Animal
You know these people. They are the ones who go without sleep for so long that you wonder how they're still alive. Their style game is on point and mirrored shades are the most important of their festival survival essentials. You can basically see all the party in their lenses. Partying takes effort and they really don't want you to tell them about their black circles.
Get their look: Mirrored, Blue Reflective Sunglasses
What's in their bag?
Apart from mirrored sunglasses, a cult classic at any music festival , other essential things you can count on these people to have are medicines (to ease hangovers) and portable water bottles. Everything else is secondary.
8. The Ridiculously Tall One
You'll be dealing with a lot of these, actually. Unless you're lucky enough to be friends with this guy, you'll just gonna have to tiptoe or find a different spot in the crowd.
Get his look: Swag Aviator Sunglasses, with a Cool Brow Bar
While he doesn't worry much about festival style essentials, there's one piece of fashion he can't go without. You'll likely spot him wearing a pair of serious looking large men's festival sunglasses , since he gets plenty of undeservedly hostile looks.
What's in his bag?
Probably the most important thing anyone over 5ft9in should bring to a festival is a load of T-shirts, printed with several different phrasings of essentially the same message: Deal With It. His fashion is all about the stylish, in season shades !
9. The One Who Came Straight From Another Festival
Also known as 24h party people, these guys and girls are seasoned party goers who go from festival to festival on a streak of endurance-testing dance marathons. They're the ones keeping the spirits up at dawn on the last day of the festival and asking for 'one more tune' at the end of every set.
Get their look: Aviator Sunglasses
Just like the party animals, s/he camouflages missed hours of sleep under darkened lenses and often takes it to a whole other level, with colored and sometimes funny festival sunglasses. Bright colors like teal, fuchsia and yellow are usually the best for this!
What are their festival essentials?
A toothbrush, a spare T-shirt, and a hammock. These people are virtually nomads now, so they can't afford to carry too much. You can count on them to share their rave festival essentials , though, especially things like Kandi.
10. The One Who Came With The Band
He tries to remain incognito at all times, but that's hardly ever necessary and avant-garde sunglasses don't exactly help you blend in. Even if he wasn't a minor celebrity, the gray jeans, messy hair, and tucked-in artist badge give him away immediately.
Get his look: Vintage Fashion Shades
What's in their bag?
Don't ask them what festival essentials to pack unless you want to end up with a long list electrical and audio equipment. Their #1 band stuff item is probably gaffa tape.
However, this friend knows a thing or two about party essentials for festivals since he's been to a ton of these before, so stick around for the best of times.
Bonus: Festival tips checklist!
And now for the serious matters: here is our list of essentials that every festival survival kit should include:
<::marker> Sunglasses, sunscreen, and a cool hatc
<::marker> Loose clothes and comfy shoes (get rubber boots/wellies if you're expecting rain)
<::marker> Fanny pack or cross body bag
<::marker> Toiletries like deodorant, toothbrush and dry shampoo
<::marker> Rain jacket / PVC rain coat and sealable plastic bags (for your phone)
<::marker> Refillable water bottle
<::marker> Toilet paper, wet wipes and mini hand sanitizer
<::marker> Band aids, medicines
<::marker> Tent, sleeping bags, blankets and/or warm hoodie for cold nights
You're now ready to have the best festival experience of your summer.
Didn't find the right pair?