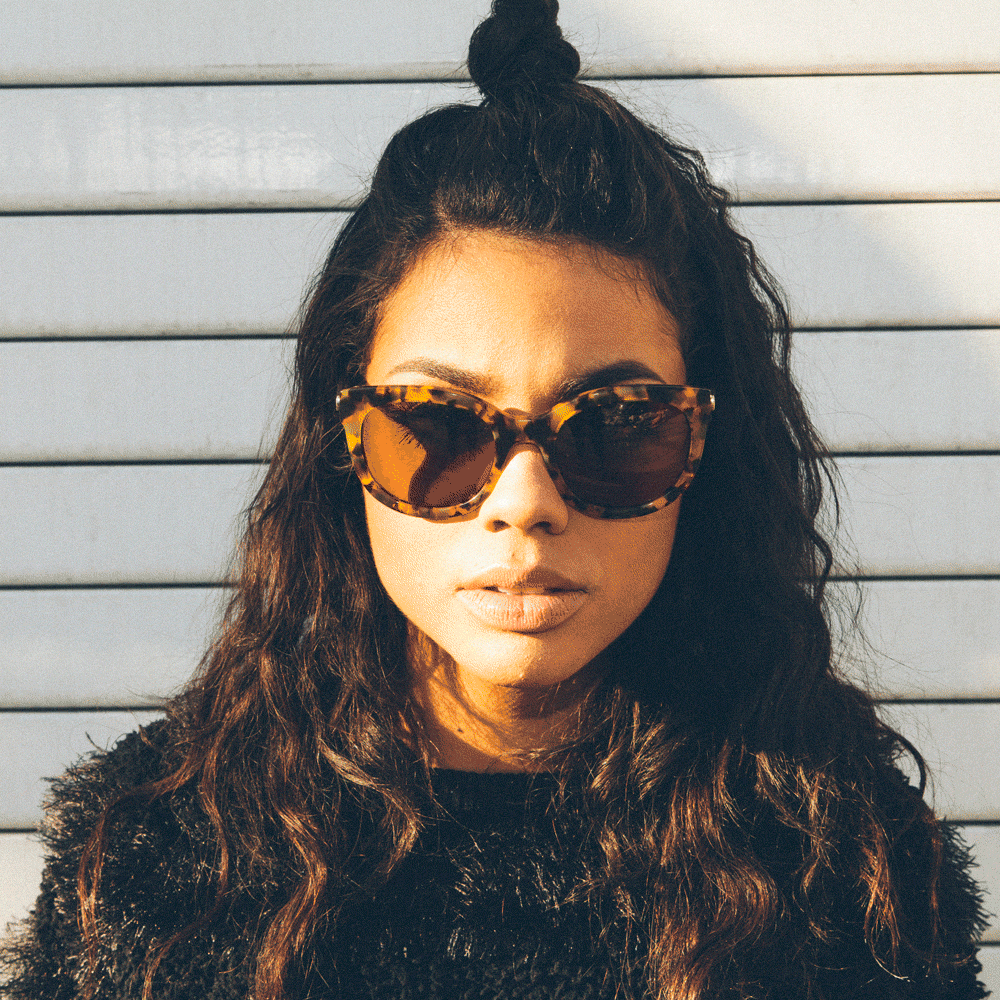 The Best Cat Eye Sunglasses: Trends and Options
Looking for a pair of funky shades that give you some massive personality without forcing you too far out of your comfort zone? You've met your match with timeless, vintage-inspired cat eye sunglasses from Vint & York.
If there's one frame style that's gonna take any woman all the way from season to season, it's the cat eye frame . And here are our favorite cat eye shaped sunglasses, all of which are really are worth the hype!
This remarkably iconic, instantly recognizable silhouette is marked by its upsweep at the edges of the frame, creating a dramatically defined brow line. Synonymous with retro vintage, steampunk, hipster, and glam aesthetics, cat eyed sunglasses will become a fast favorite in your collection, no matter the vibes you're feeling on any given day.
In this guide, we'll help you choose the right pair of cat eye frames. That pair that makes you look younger and feel like you just got styled by a true professional! You'll also find a bit of history about how they become so popular and some insight into the top trends. We even threw in fashion blogger approved style advice on how to wear them in different outfits! Pretty neat, right? Stay tuned and get ready for a post heavy with cat eye pictures !
What Are Cat Eye Sunglasses?
The Classic Cat Eye Shape
To recognize authentic cat eye frames , look for a distinct upswept frame shape . In the UK, these glasses are actually known as upswept glasses !
The raised temple edges give the appearance of feline eyes and also make the cat eye frames the quickest and easiest way to elevate your look to new heights. No pun intended!
They really add a lifting effect to your face thanks to their prominent flared outer edges . And we all need that extra "oomph" instant lift. Especially after a week of tight deadlines and way too little sleep.
A Bit of Cat Eye Sunglasses History
Now that you're clear on what they look like, you might want to read all about cat eye trends and find the coolest pairs to try. We don't blame you!
But wait a second! Do you know how they became one of the most popular frames? It's quite a story, and it all starts with ending the war, and discovering how to make elongated lenses!
In the early 50' s, after the US war ended and technology started to advance, people started to experiment with lens shape. Up until that time, glasses came in round shapes only, because the lenses were – you guessed it – round!
So, when elongated lenses started to be a thing, cat eye sunglasses took off like wildfire. Since lenses became more elongated, eyewear designers started to create an elegant elongated frame shape . Embellishments at the top were also designed to make it more obvious they were completely different from whatever eyewear everybody was wearing at the time.
And that's how the frame became both a fashion statement and a helpful tool for vision correction!
How Did the Cat Eye Sunglasses of the 50's Look Like?
The original 50s Cat Eye sunglasses style was thinner and angular , with a big swoop look on the temple meant to accentuate the cheekbones.
The frames were produced for optical glasses until 1961 when Audrey Hepburn wore a pair of cat's eye sunglasses in the Breakfast at Tiffany . The cat-eye sunglasses design she wore were called the "Manhattan".
These famed, oversized cat eye sunglasses spurred lots of interest in this fun and cute shape. If you're asking yourself the pertinent question "Are cat eye frames in style?" the answer is yes—that timeless scene in Breakfast at Tiffany's may have spurred it, but fashion trailblazers through the decades have kept it alive ever since.
Nowadays, cat eye sunglasses are more rounded and better suited for many different face shapes . And the best part is that cat eye sunglasses can come in prescription as well!
The Best Face Shape for cat eye glasses
Because cat eye frames are in fashion more than ever, many sunglasses variations are all about bold, classy and getting that Instagram selfie-ready look. But with all the shapes to choose from, it's hard to pick a pair that fits your style and your face shape. With cat eye glasses, face shape is a bit more of a consideration than it may be with more straightforward silhouettes. So let's get into matching your cat eye with your face shape features!
Who can wear cat eye sunglasses? This is a trend that can look good on all face shapes. If you're not sure the cat eye look is right for you, we've found some great shapes that fit every face shape! Whether you're in search of small face sunglasses or the perfect style for your round face, we're here to help.
Cat eye sunglasses look good on bottom-heavy face shapes such as round, square and triangular because the frame's shape balances the features out. But they also come in many variations and styles, so they're wearable for many other types of faces.
Cat Eye Sunglasses for Round Faces
The best type of cat eye sunglasses for a round, fuller face, is a pair with angular lines.
Go for shades with sharper edges or for an oversized frame that curves upwards, or one with thicker frames. This option suits and looks good on anybody that needs to draw attention away from a rounded cheek or a fuller jawline.
Cat Eye Sunglasses for Square Faces
The best type of cat eye sunglasses for a square face is a narrow, subtle frame. If you want to take attention away from an angular facial feature, pick up a subtle cat eye frame with rounded-out edges. The right pair of sunglasses would make a square face look softer.
Cat Eye Sunglasses for Small Faces
Cat Eye Sunglasses for Heart-Shaped Faces
Cat Eye Sunglasses for Oval Faces
Cat Eye Sunglasses for Triangle Faces
And remember: These are just guidelines to help you choose a cat-eye design that feels in symmetry with your features. But your choice of cat-eye glasses shape and style is entirely based on your personal preferences!
The Latest Cat Eye Sunglasses Colors & Trends
So know that you know their history, let's get to the goodies: trends, trends, trends!
The wrong cat-eye pair can immediately send a "cat lady" or "secretary" message. In the 50's the glasses looked very feminine and glam on everyone from librarians to Hollywood stars, but nowadays those styles would look retro in an outdated way. Only go for revamped, current styles of the classics. Here are some examples of five types of cat eye shades that are revamped styles of the classic frame shape:
Black Cat Eye Sunglasses
Black cat eye sunglasses are now in style more than ever. You hear that every year, so it's not only a safe investment but your next best fashion move. They really are the black dress of eyewear!
White Cat Eye Sunglasses
Oversized Cat Eye Sunglasses
Large oversized cat eye glasses give everybody a run for their money. These really big and glamorous cat eyes shades will make you feel like a celebrity.
Tortoise Shell Cat Eye Sunglasses
Tortoiseshell cat-eye sunglasses are not to be reckoned with. Season after season, they're in style and paired with a cat eye shape, you'll soon be getting strangers asking you about your purchase.
Vintage 50's Inspired Cat Eye Sunglasses
The modern pin-up look is never complete without a revamped pair of 50's vintage inspired cat eye frame, with a dramatic swoop! These shades are a conversation piece and expression of your personal style.
How to Wear Cat Eye Sunglasses: Fashion Blogger Approved!
Even though this style is timeless and a true classic, the cat's eye frame versatility is quite something. With a single pair classic cat eye sunglasses, you'll be able to play and create new, fresh combinations, from rock outfits, to bohemian and professional looks.
They're not just an essential piece for a vintage, pin-up or classy, Audrey Hepburn looks. And here are the photos to prove it, straight from your favorite fashion bloggers who styled cat eye sunglasses in their outfits!
Urban Outfit
Strolling through the city just got classier! Pair up your vintage-inspired sunnies with a pair of skinny jeans and a loose shirt, grab a small ice coffee and you're ready to explore!
Bohemian Festival Coachella inspired Outfit
You're going to be dancing in the sun for quite a while, so better have the UV protection your eyes need, all while looking extra chic in a pair of shades that will turn more heads than the Coachella lineup!
Beachy Look Outfit
Your summer dress and your favorite pair of flats are all you need besides your trusty UV protection shades!
Going out Shopping Outfit
Where & how to Buy Cat Eye Sunglasses
If you're planning to buy cat eye sunglasses online, use a Virtual Try On and don't forget to look at the frame's dimensions. Vint&York has you covered with all sunglasses dimension and a virtual try on that's a ton of fun!
Don't miss out Vint&York's fresh selection of cat eye sunglasses !