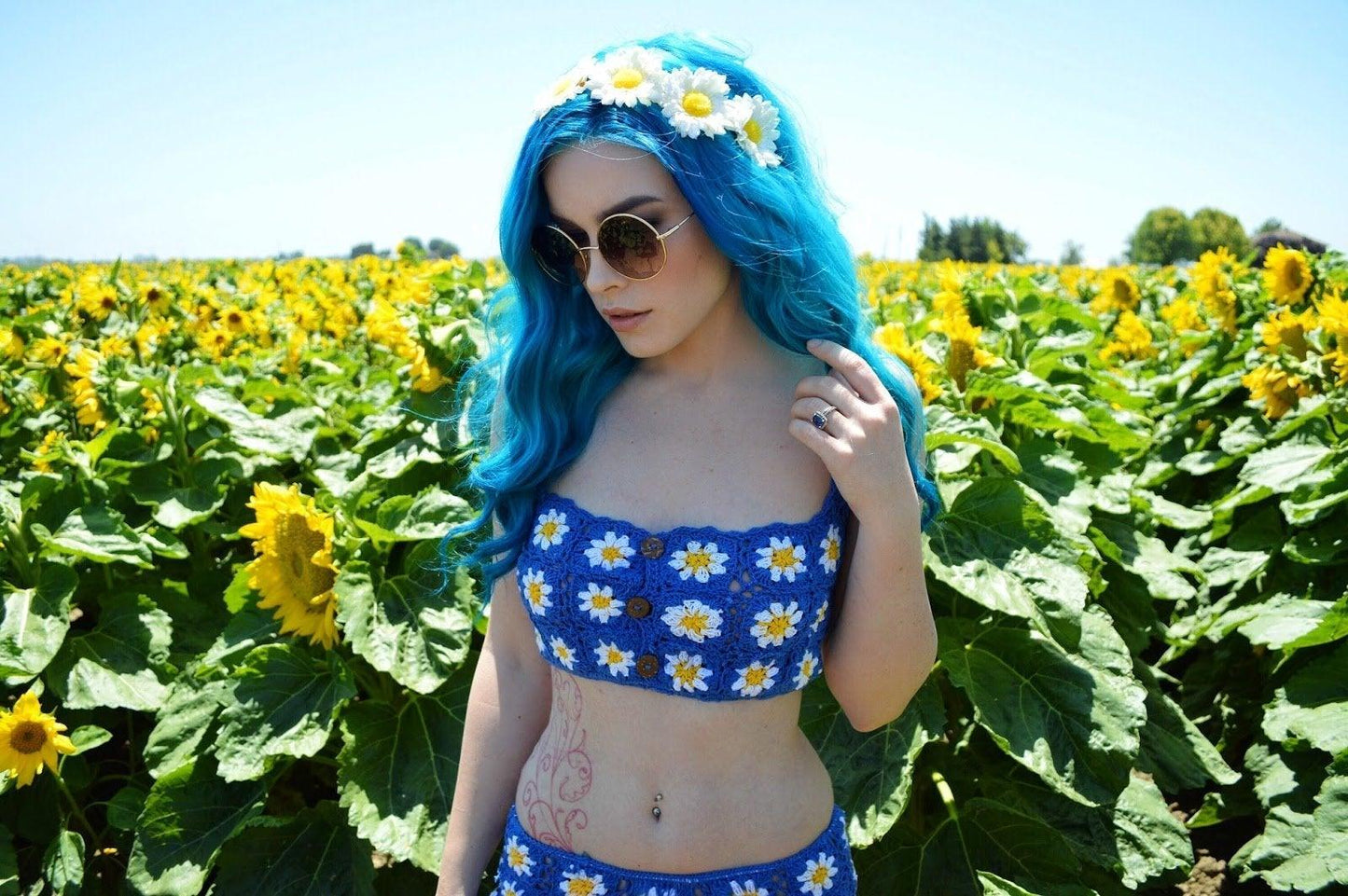 Round Sunglasses: Trend Report for Men and Women
Round sunglasses are a must-have accessory and a cool piece that any stylish man or woman can use to bring extra points to their outfit. A statement of a young soul, round shades are one of the most popular eyewear styles in the world right now!
With style icons around the world keeping the hype alive—just take a look at the super trendy Anderson Paak glasses or those made famous by the queen of eyewear Iris Apfel—the round sunglasses trend is not dying down anytime soon. Why should it? A pair of bold and beautiful round sunglasses makes a splash and a statement. Bonus points for the fact that these non-angular accessories look good on virtually everyone!
So why not try a pair of round shades to accompany you in your adventures? We got you covered with 8 different styles with more than 15 cool pairs of circular frames!
BONUS : Style inspiration and outfit ideas from your favorite celebrities and fashion bloggers! Regardless of your personality, style, and necessity, there is a pair out there for you. And we've rounded up the best round sunglasses ! Have a look below and decide on the best pair for you!
The Perfect Face Shape for Round Sunglasses
Before going into buying a round pair of sunglasses make sure that they are a good fit for your face shape. This is a very important step because round sunglasses do not fit everybody the same.
So which face shape best fits round sunglasses ? In this article , ELLE says round sunglasses are the perfect match for square and oval faces . They're right, but, if you have a round face and want to trick the classic rules, here's how to do it with style in this guide! Basically, anyone can pull off round shades, but a little bit of styling finesse may help you take your optical fashion to the next level.
What Shape Faces Work Best with Round Shades?
Without a doubt, the best face shape for round sunglasses is a square face shape. And regardless of gender, round sunglasses work best on narrow to medium faces with square, oval or angular features.
Why? Because the frame's circular lines balance the hard lines of angular and square faces and makes everything smoother. The opposite of this style rule is easy to guess: round faces will not fit as well with round sunglasses .
The Best Round Sunglasses Styles
Now that you have worked out that your face shape is compatible with round sunglasses it's time to get to the fun part: choose a style that best fits your personality!
Round sunglasses are in style now more than ever, so that means a lot of style variations have been created and have taken many forms and shapes Each of them adapted to different trends.
Here we show you the best round sunglasses styles for this year so you can decide which one fits you best!
1. Metallic Round Sunglasses
Metal is part of the classic round sunglasses design.
The original style consisted of slim metal silhouette that made the frame durable and eye-catching and seen a lot of many colorful festival outfits . Think: style icon John Lennon, who made this specific style extremely popular in the mid-1960s with his "granny glasses." When paired with sunglasses lenses, these frames are youthful and artsy with a vintage flair.
The Juice Joint is the classic retro round frame , simple and cool, the ideal choice if this is your first pair of round sunglasses. The retro twist offers the frame personality because it resembles the John Lennon iconic look. This unisex frame comes in a slim metal frame makes it very light – you will barely feel that you are wearing them.
The gradient lenses shield your eyes from the summer sun while also offering you a cool view of the world. Due to its simplicity, you can wear it with most outfits without having to worry about matching it.
How to wear metallic round sunglasses?
Feeling out of inspiration? Take a look at how iconic people wear them and get a sense if they might be a good fit for you.
The Juice Joint round sunglasses are your perfect day-to-day frame . Their beautiful design makes them the perfect city companion. Take them with you when you go to school, work or simply for a walk in the park.
Pair it with shirts and casual items of clothing that makes you feel comfortable and relaxed. This is what they are all about. The frame emulates the life of an artist so nothing should be forced. This pair of sunglasses is for the laid-back shade-wearer.
Clip-on sunglasses are praised for their practicality and innovative design, and their inspiration comes from steampunk fashion. If you find yourself in need of switching between glasses and shades , this is the stylish frame to choose! The biggest benefit here is that you can get RX-quality vision without the high price of RX sunglasses or Transitions. They look pretty cool, too!
Very similar to the classic retro sunglasses , The Charleston frame hides a double practicality. It is a round frame that packs attachable round sunglass lenses. You can get the best of both styles in one very cool frame.
The heavy brow bar is what sets this frame apart. Drawing heavily from the Aviators brow bar , The Charleston is a combination of elements that surprise and captivates attention. You will amaze everybody with your new retro style approach.
How to wear round clip on shades?
Their practicality makes them versatile so you can wear them everywhere.
Even if you don't need a prescription, you will still look cool with round glasses. And as soon as you step outside the building you can attach the sunglasses lenses and completely transform your look.
They work well in casual environments and places where you can switch easily between lenses so you can wear them with smart outfits . Don't miss out on the opportunity to be unique. If a double-sided frame is what you are after, then look no further.
The vintage style is making a major comeback so if you are planning on updating you sunglasses collection, you might as well go with a time-tested style.
The vintage-inspired round sunglasses are the safest bet for a man who needs a cool frame. The Swinger reminds us of the 20's style when this was the coolest round sunglasses shape for men to wear. Even though they are simple, these sunglasses will not let you go unnoticed.
Very manly in shape, these frames are completely made from metal. They emulate the rebellious style of rock stars and worldwide renowned celebrities.
How to wear round vintage round sunglasses?
Wear The Swinger with leather jackets, tight jeans and unbuttoned shirts. Try on several chains and items of jewelry that speak of your grunge style. They will make you look like a rebel, so it's best to dress like one. Match them with articles of clothing that fit your personality. When it comes to round sunglasses, men's options tend to be plain. But Vint & York offers some of the best men's vintage round sunglasses ever, perfect for those looking for a fun and unique twist on this classic shape.
How celebrities wear them?
Rock & Roll superstar Ozzie Osbournes has been associated with vintage round sunglasses for decades. His unique charisma and outrageous lifestyle illustrate the mindset of the rebel. Play the part, look the part!
4. Flat Top Brow Bar Round Sunglasses
The straight brow line comes in contrast with the round lenses creating a beautiful aesthetic effect. Try a different type of frames and choose something unique!
A modern approach for a modern style. Around the Block is an eclectic frame that illustrates how the round silhouette has evolved in order to keep up with the latest in fashion trends. These are among the best round sunglasses for those who want to give off whimsical but sophisticated vibes.
Made from high-quality acetate, the modern round sunglasses have an innovative and masculine shape. The slim metal brow bar speaks of other various influences such as the iconic Aviator style . Vint & York's Around the Block Modern Round Sunglasses are unisex and can fit beautifully with your style.
If you are looking for a thicker, bolder brow bar, The Flatiron is another great choice that also has a keyhole bridge. The frame is thick and has bold lines which are uncommon in other round sunglasses . Flatiron speaks to young people that are party-goers and fashion enthusiasts. Its versatile character enables it to be a great choice for a number of social settings.
How to wear flat top round sunglasses?
The modern round sunglasses should be paired with stylish outfits that emphasize their powerful fashion sense. Match them with a suit and tie for the everyday job or slip in some fashionable streetwear on weekends.
Most importantly, wear them with confidence and charisma as they are a powerful statement of classic-meets-modern. If you attend important events, the red-carpet type, this is your game.
How celebrities wear them?
The straight brow bar round frame is meant for both men and women.
Observe word wide famous pop star and bad boy Justin Bieber wearing round modern sunglasses on the Red Carpet with an avant-garde shirt and bold golden black tuxedo.
5. Clear Round Sunglasses
Drawing heavily on bohemian and hippie influences the clear round sunglasses are a testament to the new "Boho" sunglasses style.
The Chelsea is the modern clear version of round sunglasses for women . You can observe how the simple, slim metal frame has been dropped in favor of the clear, high-quality acetate .
The versatility of the round sunglasses trend is once again exploited to bring a new style to life. If you are looking for something clear yet with a straight brow bar , check out this frame.
Emulating a similar summer hippie vibe, the clear round Flatiron will be a great addition to your dresses wardrobe. This frame is best suited for young and adventure seeking girls, ready to take the year by storm.
How to wear clear round sunglasses?
To find out how to best style these round sunglasses think about your personal wardrobe.
The clear Boho sunglasses style is best emphasized with flower dresses , ankle boots , bohemian head scarfs and o versized sweaters or shirts . Clear sunglasses frames work best with a laissez-faire hippie wardrobe that makes you feel comfy and stylish. Let your hair free and enjoy the sun.
The clear round sunglasses should be a part of every girl's festival essentials list . They are a must have if you plan on hitting Coachella, Burning Man or any other seriously fun festival this summer.
How celebrities wear them?
6. Cat-Eye Round Sunglasses
Of course, we saved a spot on our list for one of the most iconic sunglasses styles of all time. Cat eye sunglasses are a woman's best friend, so be sure to check them out in a rounded silhouette!
The most surprising round silhouette of the year comes in the form of The Bearcat. The result of a fusion between round lenses and cat eye frames , this style is glamorous and daring.
A great match for the elegant modern lady, The Bearcat round cat eye frames will compliment your whole style. A frame designed for the town, it should accompany you in all your Sunday brunches.
How to wear round cat eye shades?
Do not be afraid to show off your extraordinary style. A modern outfit with a vintage twist will be in the right tune with your eyewear. Style the frame with elegant dresses , sharp high heels and large hats.
Adopt the movie star look when you go out for shopping, have a meal at a terrace or enjoy a walk. The Bearcat and Zelda frames have your eyes covered!
7. Oversized Perfect Round Sunglasses
Feeling like a movie star today? You better start imagining the high-life if you plan on sporting these oversized round frames.
Faithful to the classic style, The Moll is an oversized round sunglasses frame that symbolizes the natural evolution of trends. The classic round silhouette is preserved but the metal frame has been switched to a high-quality acetate one. Besides this, everything else is the same.
The gradient lenses and the metal arms confirm your passion for the classics while the oversized silhouette lets people know that you like to have fun.
Moll Oversized Round Sunglasses – Get yours here !
Oversized round sunglasses come in many variations. You might be looking for something more modern that the classic Moll. A great oversized frame with modern touches is The Torpedo .
Round and simple, The Torpedo is a wider, thicker acetate frame. Look like the superstars of Hollywood with this oversized round frame!
How to wear them?
Oversized round sunglasses are the perfect beach accessory that you should not lack. Bathe in the sun while your eyes are stylishly protected. Wear them with a sexy bathing suit and a large beach hat.
Alternatively, you can emulate a laissez-faire look with some maxi skirts, crop tops, and loose hair. The hippie bohemian look is a great match to this style, so you should get behind it.
8. Round Tortoise Shell Sunglasses
Choose tortoise shell sunglasses and stand out from the crowd. The eye-catching coloring of tortoise shell frames matched with the slick lines of round sunglasses will create the impression you desire.
Tortoise shell frames have a retro twist that makes them a stylish and playful accessory. Made for both men and women, round tortoise shell frames can add a splash of color to simple outfits and make you stand out of the crowd.
Depending on your style and preference you can choose a darker nuance of brown and yellow, such as the Bluenose, or you can go for a brighter and happier version like The No-Lita.
The No-Lita tortoise shell round sunglasses are meant to lighten up your face! They are a great fit for people with darker skin color and hair color. The contrast between the color tones will enhance your features so get ready to receive tons of compliments!
Alternatively, check out the On the Up and Up frame for an even coloring. This frame is the perfect balance between the other two styles.
How to wear tortoise shell round sunglasses?
Tortoise shell sunglasses are unique and out of the ordinary but tend not to require a specific dress code. As long as the outfit is beautiful, they can be matched with suits, casual shirts and tees.
Ladies can wear tortoise shell round sunglasses with anything from bathing suits to flower dresses, maxi dresses, smart and office clothes. Mix and match as you like, the options are limitless!
Where and how to buy round sunglasses?
Vint & York loves every possible round shade style. This is why we have you covered with all the styles showcased in this piece. Just pick the one that best suits you and try our virtual try-on test to see if it fits you well!
With round sunglasses, trends come and go, but one thing stays the same. Whether done in tortoise shell, translucent, or some other trendy finish, you will always look up-to-date in a pair of circular shades.
Round sunglasses are a fun and stylish accessory that will add so much to your overall style and protect your eyes. Their eclectic character makes it easy for you to match it with many styles so that your outfit can be on fleek!
What's your favorite round style?