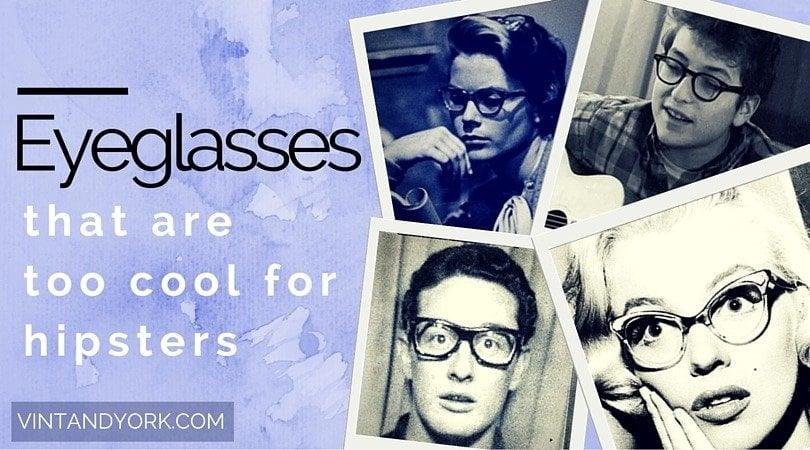 How to Pick the Coolest Hipster Glasses
Step right up and find everything you ever wanted to know (and more) about hipster, geek glasses that elevate you to the next level of cool.
Everybody has an opinion on wearing hipster glasses . Or a love-hate relationship with them. But do you know how they started being so popular? Or how the style evolved over the years into the hottest hipster shapes and trends we see today?
This complete Vint & York guide will answer all the questions you have, including how to wear hipster glasses without looking basic or inauthentic.
What is a hipster?
You've heard the term so many times, yet you still might wonder what does a hipster mean ?
Hipster describes a person who is keen on the latest trends – in fashion, music, and lifestyle. However, it's very important to hipsters that these trends are not culturally mainstream. That's as soon as everybody else is interested in them, they are no longer cool.
The hipster is on a quest for uniqueness, a need and desire to be individual and original. Hipsters want to express their personality through cultural trends that they identify and relate with.
The hipster lives outside social conventions and rejects the idea that he must comply with conformity in order to blend in.
How to be a hipster?
Hipsters have a great interest in fashion and culture . The hipster style often implies laissez-faire looks and a not caring attitude toward what people think.
The first rule of being a hipster is to be natural in your style and to dress as you feel. You can also accessorize with hipster eyeglasses , scarfs, earrings and bracelets.
If you're a man, you may consider contributing to your one-of-a-kind hipster look with a standout beard or mustache.
Hipsters are also big on listening to non-mainstream music. The musical genre is not important as long as the artists are underrated and somewhat unknown.
Hanging around in known hipster neighborhoods and cafes can help you get into the hipster groove. This way you can observe other hipsters' styles and make new friends. You may end up enjoying the hipster experience so much that you're ready to dive into a brand new chapter in your life.
A big part of any hipster's look is their eyewear style . Most hipsters wear stylish eyeglasses with or without prescription lenses. They are called hipster eyeglasses and these glasses are an essential part of the outfit.
What are hipster glasses?
Hipster glasses aren't usually on the safe side of fashion. They are the kind of glasses that make you stand out.
They feature unique designs and shapes, , unlike the ones you usually see at your local eyewear store. Hipster glasses are progressive in an unconventional way. They stand for individuality and creativity.
Even though hipster eyeglasses may sound a bit adventurous, or even out of your comfort zone, don't fret just yet. You'll find plenty of shapes and colors, making it easy for anybody to be able to pull off a pair. Keep reading to find your own.
Geek Chic Glasses by Vint & York from Dave Brick on Vimeo .
When did hipster glasses become popular?
The hipster frame had humble beginnings. It was initially designed as a simple square shaped style, a style that's become well-known as the Wayfarers.
This shape quickly became popular with many celebrities adopting the new look, which skyrocketed the trend into a raging cultural phenomenon.
Hipster glasses became an iconic look for Buddy Holly and Bob Dylan. They were also frequently seen on celebs like Marilyn Monroe or Grace Kelly in their movie roles or daily lives.
The widespread trend of wearing glasses was so strong that people even started wearing glasses without prescription lenses . It was a style statement, as opposed to a necessity.
This quickly sparked an eyewear revolution that embraced the thick frames as a hit urban trend . It was, and it still is, a fresh way to mark your identity.
Today, hipster glasses evolved with revamped classic styles that are made out of high-quality lightweight materials and come with new details and shapes.
Are hipster glasses still cool?
If you're wondering hipster glasses are over or still are cool , the trend isn't even close to being over. Over the past decade, hipster glasses have continued to evolve and dominate the urban fashion scene.
In fact, hipster eyeglasses are often worn by celebrity icons in movies, sports or music. Tina Fey, Ryan Gosling, Justin Timberlake, LeBron James, Donald Glover, and Kendall Jenner are just a few big names who often rock the hipster look with these funky-framed glasses.
As for the rest of us, just take a look at the amount of Tumblr posts and Pinterest Boards dedicated to hipster glasses. They are living proof these glasses are here to stay.
What are hipster glasses called?
The hipster term was actually coined during the jazz age , a period that fuels Vint & York's designs. Back in the 1920s, the term "hipster" referred to folks who carried a flask of liquor on their hip. The practice of carrying around a flask of liquor would have made perfect sense, at least if you wanted to drink back then, as it was the early days of Prohibition.
Once Prohibition was repealed in 1933, the term still stuck around, but it took on a different meaning. It still had a connection to the actual hip, yet it was used to describe hip-shaking dancers.
Once the 1940s hit, the hipster definition changed once again. This time it changed to mean someone who follows the latest styles in fashion, music and the like. While that's similar to the usage the term enjoys today, it's still a bit off.
Modern hipsters don't necessarily follow the latest styles; they are more likely to create them. Either way, hipsters are oozing with cool.
If you're looking to pick a pair of hipster glasses, but have no idea how to describe them, don't worry. You won't have to go into the history and origin of the hipster term.
While you can certainly call them "hipster glasses," there is no proper name for the cool frames the category would cover. But you can easily identify them by style , as many are known for their elements or shape.
As a play on our origin, Vint & York frames are always named after vintage slang.
With quirky throwback names like COPA, Molly or Cat's Meow you'll be guaranteed to get a reaction when somebody asks where you got your glasses and what they're called.
For the record, the Vint & York frame names have pretty keen meanings:
COPA means pleasant, as in copacetic
Molly is a term used for a gangster's girl
Cat's Meow means something stylish
You can check out a few other cool names of Vint & York eyeglasses below.

Photo: cool hipster glasses from Vint&York
Although there is no specific category name for hipster glasses, you can easily determine if you're wearing a hipster design. Your glasses are definitely hipster IF they are :
Are vintage-inspired
Have a keyhole bridge
Are oversized or thick
Come in a unique color or tortoise shell pattern
Are cat-eye shaped, round or feature an interesting browline design
What Style & Shape are Hipster Glasses?
If you're not sure yet on how to spot an authentic hipster pair of glasses, or what they look like, we here at Vint & York are here to help.
Hipster glasses come in all shapes and sizes, with a vast majority of them featuring oversized frames. They are designed to make faces look more interesting and really stand out.
The typical hipster styles are nerdy/geeky glasses , cat eye , round , vintage , horn-rimmed/tortoise shell . The hipster look is so cool that you'll sometimes even find people wearing non-prescription hipster glasses . Yes, that's right: fake glasses. This is another controversial topic.
Even though some people wear hipster glasses just for style, a number of people use them to actually see well.
Whether you go for hipster glasses with or without prescription lenses, you're still sporting a symbol of grown-up sophistication .

One of the most recognizable and iconic hipster styles is the black, square large frames . They are simply one of the best-rated hipster glasses style to wear. And if you ask us, one of the coolest.
These eyeglasses are very laid-back and hip. They'll instantly give you that smart, urban and, "effortlessly cool" look. Black, square-framed glasses are really the type of everyday glasses you end up falling in love with again and again.
What other glasses shapes are hipster-like?
The Cat-Eye Glasses
Now more relevant than ever, cat-eye glasses provide the perfect finish for your office outfit. They're also able to take you anywhere, from meetings to art galleries.
The Clubmaster Browline
Browline glasses are the easiest way to achieve a geek chic look. Known also as Clubmasters, they mimic how eyebrows frame the face. With their snazzy shape and hip vibe, Clubmaster browline glasses let you express your flair and individuality with your head held high.
The Flat Brow
Another type of browline is the flat brow.
Seen usually on the urban hipster, these hipster browline glasses offer a fresh urban look. With their defined shape, they accentuate the eyes while looking brilliantly fashionable.
Ultimately, these flat-top hipster glasses are perfect for life in the big city.
The Round John Lennon metal frame
Round frames are great for those who want a professional edge. If you're a trendsetter who enjoys being different, the round-framed geek glasses will help complete your outfit. The round frames deliver that geek look we all love, with a cool chic twist.
The vintage flair of these distinguished metal frames gives an intellectual look to the wearer. If you're well cultured and bright, round metal frames may be a good fit for your personality.
The Keyhole Bridge
The keyhole bridge is nearly always an element in hipster glasses.
For those who enjoy being different and expressive, the keyhole bridge offers a unique subtle shape.
The Oversized Thick Frame
Oversized frames pay tribute to vintage eyewear and make a bold statement.
The large size embraces a more bohemian approach to style, which makes the face look more interesting. They also really stand out, while making everything around them do the same.
The hipster look is really all about being unique and sharing a part of your style. In most cases, hipster glasses have lenses. But you can find versions without lenses. You can also buy Vint & York frames without lenses. Whatever your style, the trick is to go for it. There are no set rules for looking unique and cool.
With their large size and boldness, these frames create a cool hipster look, especially when worn with cool urban attire.
It doesn't matter if you identify yourself as an artsy hipster or a trendy professional. For the free spirits of the world, hipster frames are a true fashion calling. They make you stand out from the crowd while offering a boost of color and confidence.
Eyeglasses really have some magic of their own.
They can make you look more intelligent, sophisticated and – why not? – hipsterish.
Will hipster glasses suit you?
If you're new to these glasses styles, you're probably wondering if hipster glasses will suit you. Will they look good with your personal style?
They certainly can, provided you go for hipster glasses that align with your face shape. Even though the frames may be a bit out of the ordinary, most of the basic principles for choosing ordinary glasses apply. Read more in the Vint & York guide on how to choose eyeglasses ).
Hipster Glasses for Round Face
If your face is round, you want to balance out the roundness while adding more definition to your features. You'll want to avoid round and rimless frames, as they both accentuate the roundness rather than balance it out.
Instead, go for loud frames with angular designs. The Vint & York Ritzy is a good choice, as they are expressive and quite flattering for the round face.
Geek glasses for Square Face
If you have a square face, you should choose round or oval frames to balance your features. Go for a rounder frame that's not very angular. Large-framed glasses, like Vint & York's Swanky eyeglasses, can take you everywhere. Go from office meetings to art galleries without missing a beat.
Hipster glasses for Oval Face
People with oval faces can rock any style, but geometric-shaped frames usually look best. Look for large, boxy frames in standout square-ish or rectangular shapes.
You now have a good idea on the types of frames to choose for different face shapes, but your research into hipster glasses doesn't have to stop there. You can actually try on a variety of different frames right here on the Vint & York website.
Our Virtual Try-On app lets you quickly and easily see what our different frames look like on you. You don't even have to snap or upload a photo for it to work. Our app turns your device's screen into a virtual mirror. So choose your favorite hipster frames, and select the try-on option on the product page.
Where can I buy hipster glasses in NY?
If you're wondering where to buy hipster glasses in NYC, we have you covered here, too. Vint & York is known for our premium designer eyeglasses with a vintage-inspired feel.