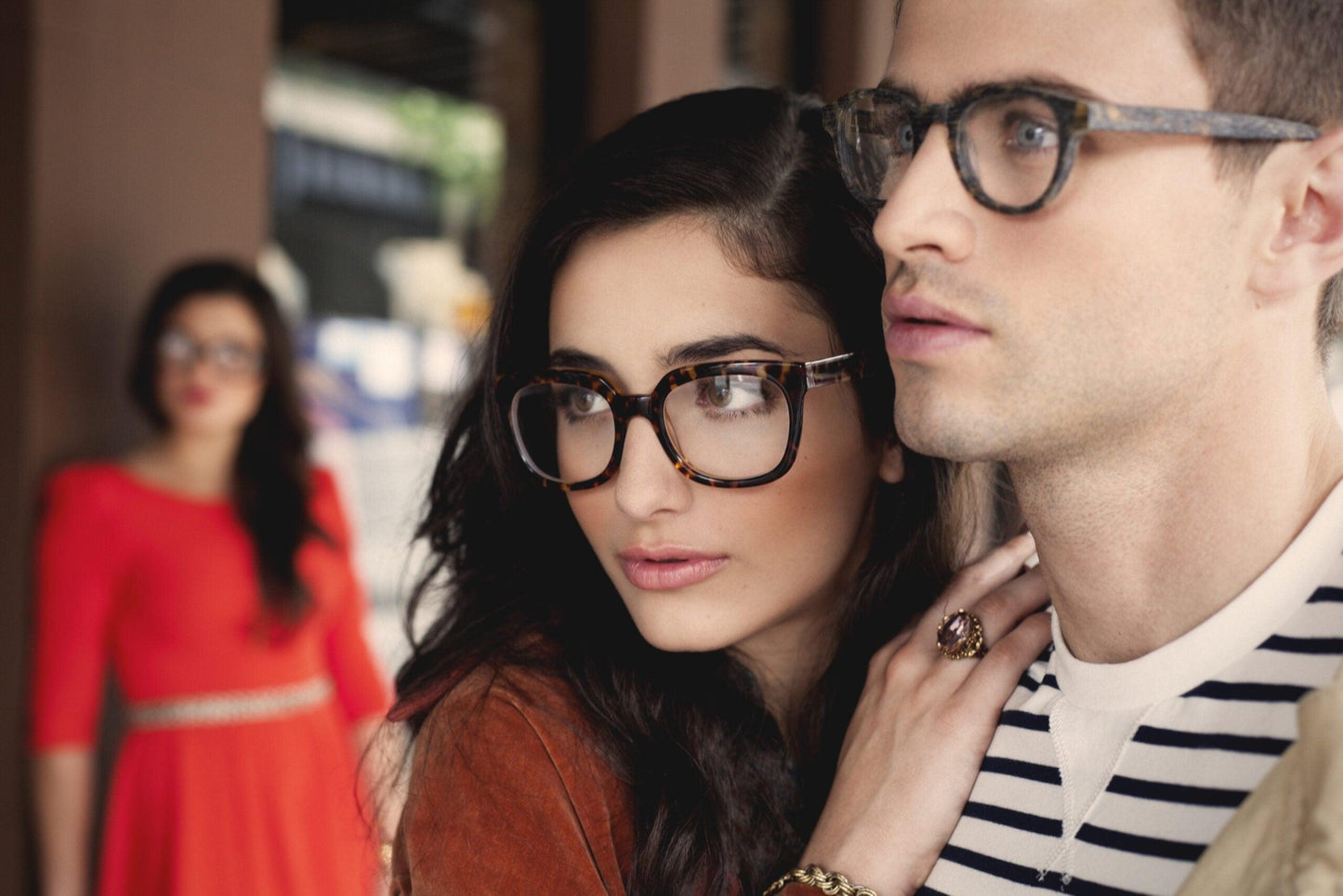 Ultimate Guide to Tortoise Shell Glasses
A huge vintage and hipster revival is taking place right now, and you seriously can't miss out on it. We here at Vint & York are: talking about the timeless tortoise shell glasses !
With their classic mottled yellow, honey, brown and black tinged look, these beautiful frames are back in full force. And here's how you can get your hands on the best tortoise fashion to add a dash of super cool to your own eyewear wardrobe.
Looking for the best tortoise shell glasses that fit your style and improve your look? Vint & York has them. Try these beautiful horn-rimmed frames for men and women.
What are Tortoise Shell Glasses?
Tortoise shell glasses, often called horn-rimmed glasses , are eyewear frames that mimic the look of real tortoise shells. Back in the 20's, when they first appeared, these frames used to be made out of real tortoise shells, but nowadays they are made out of acetate rolls, a type of very durable plastic.
Their distinctive tortoise pattern has mottled yellow, honey and brown shell spots , very similar to the appearance of certain tortoises. You'll recognize this style of eyewear by its intriguing speckled look. Compared to basic black or any other solid color frames, tortoise shell frames are much softer on the face, which enhances and complements the complexion.
A bit of authentic Tortoise Shell Glasses History
One fact about tortoise shell glasses will keep you up at night: they used to be created out of real tortoise shells. That's right. The tortoise-shell pattern found in retro glasses and vintage jewelry or ornaments were made out of the shell of real hawksbill turtles.
It's sad and shocking, but it was also before we had such a keen awareness for our impact on other living things. Don't worry, making eyeglasses and other objects out of real turtle shells would be considered highly unethical today.
Authentic tortoise shell eyewear is actually specific to the vintage 50's style, but the unethical animal-made versions first appeared on the eyewear market in the early 20's.
The tortoise shell glasses craze really took off in the '50s, thanks to the world-famous Ray Ban aviators. The practice of using real turtles for making accessories was banned in 1970.
What are modern Tortoise-Shell glasses made of?
We've come a long way, baby. Modern tech advances in the plastic manufacturing industry has made it possible to get a tortoise shell look from fabricated materials. That means you can rock tortoise shell eyeglasses without, the worry of harming a single living being .
The most common material used to create the much-coveted tortoise shell pattern is acetate . This means you can rest easy knowing that no turtle has been harmed in the making of your beloved specs!
Instead of forking out over $4,000 for a pair of genuine tortoise shell glasses, you can easily pick up a high quality faux tortoise shell pair for a fraction of the cost. Vint & York designs tortoise shell eyeglasses and sunglasses out of high-quality acetate in different finishes, with prices starting around $100.
Are Tortoise Shell Frames back in style?
For many years, black has been the hottest color for eyewear, but tortoise shell has taken over. The fashion mavens here at Vint & York can safely tell you that tortoise shell is the new black.
Celebrities are even hopping on the bandwagon. Take a look at Anne Hathaway – this nerdy-chic Oscar winner celebrity wears the Vint & York Fly Boy frame in tortoise shell while out in New York.
Other than being chic and great for achieving that hipster-geeky look everybody wants, tortoise shell glasses are a very versatile accessory to wear.
The great thing about this style is that it can go with any outfit, whether you're going casual, preppy or dressing up for a club or date night. The tortoise shell pattern is subtle, and the mélange of colors make it easy to incorporate the frames into any look.
If you're going for a casual look , wear your tortoise shell glasses with a pair of jeans. Any style of jeans will do. It doesn't matter if they're a pair of skinnies, a pair of boyfriend jeans, or a pair of straight-legged jeans. Denim and tortoise shell combine for one fine statement.
Because there's quite a bit of detailing in tortoise shell eyewear , a basic outfit will look best with frames in this pattern. Wearing an overly busy outfit with tortoise shell frames will compete with the frames, not allowing your glasses to get the attention they deserve. Instead, try your tortoise shell with black clothes, which lets them really pop and stand out.
If you want to dress up and hit a party , pair your tortoise shell frames with a solid colored outfit. And pick a color frame to match. Modern tortoise shell glasses come in various shades of brown, caramel, olive and purple.
It doesn't even matter whether you wear tortoise shell eyewear, jewelry or other accessories; it's safe to say that this pattern is timeless, and will work with everything in your wardrobe.
Tortoise Shell Sunglasses Styles
Tortoise shell spectacles are really cool, and a lot of fashion blogger have adopted the look. You'll find frames in all types of styles, from aviator to oversized.
Round Tortoise Shell Sunglasses
Oversized Tortoise Shell Sunglasses
Cat-Eye Tortoise Shell Sunglasses
Aviator Tortoise Shell Sunglasses
The tortoise shell style has evolved from a classic browline frame in warm browns to cat-eye frames in colorful models. Here are a couple of the most popular ones:
Square Tortoise Shell Eyeglasses
Round tortoise shell Eyeglasses
Cat Eye Tortoise Shell Eyeglasses
Who said that tortoise shell had to be the traditional mix of brown and black? You can now choose multi-toned colored frames to showcase your creative ingenuity.
Can men also wear Tortoise Shell glasses?
You bet! Tortoise shell glasses suit anybody, both women and men. While some frames may have a more masculine or feminine vibe, many tortoise shell frames are totally unisex. That means both guys and gals can rock the tortoise shell look as often as they want.
Despite our saying that tortoise shell glasses can look amazing on both women and men, there are still so many fashion-conscious men out there who love the style but are unsure of whether the look is right for them or not.
Guys have two moves they can make to determine if tortoise shell glasses are the right pick for them. The first is to check out the Vint & York tortoise shell collection, which feature loads of frames looking great on guys.
The next is to try on a pair of tortoise shell glasses with our Virtual Try-On app . Our super cool app transforms your screen into a virtual mirror, so you don't even need to snap or upload a photo of yourself.
If you're ready to start with the first move, just keep reading along to see examples of our tortoise shell glasses in action.
Ladies have long worn tortoise shell, but that doesn't mean they're not just as hip on guys.
Keep in mind that horn-rimmed is simply a pattern. And horn-rimmed can work with anyone. What makes tortoise shell glasses feel masculine or feminine is the size, weight, and style of the frame, as well as how you wear them.
What everyone should know about the tortoise shell style is that it's completely unisex. The pattern looks flattering on both men and women.
If you want to go with a more subtle look that's not full-on tortoise shell, try a semi-rimless, browline type of frames, like the Vint & York Astor (pictured above). The tortoise browline will complement your skin tone and eyes without letting the tortoise shell pattern dominate. These frames are perfect for first-time tortoise shell wearers who want to sample the style before they dive in with a more dramatic pair.
What Celebrities wear tortoise shell frames?
And if you really want confirmation that tortoise shell is trending with men, just take a look at what the celebrities are wearing . Famous men over the years have worn and continue to wear tortoise shell frames in different styles.
JFK and James Dean wore tortoise shell glasses. Current celebs that rock the tortoise shell look include Bruno Mars, Brad Pitt and Matt Damon. And that's just a few of the modern guys who sport vintage-inspired tortoise shell frames.
Many other celebrities also jumped on the tortoise shell frame bandwagon .
Hollywood sweetheart Ryan Gosling has become a kind of icon of tortoise shell specs. He's been seen sporting them so many times that they've actually become his signature look.
Let's not forget acting legend Johnny Depp and Steve Carell . These guys are famous for their tortoise shell eyewear look both on and off the red carpet.
How to pick Your New Tortoise Shell Frames
Tortoise shell frames aren't one-size fits all. Just like with any pair of glasses, you've got to think about your skin tone and the frames' colors.
If you're slightly new to tortoise shell eyeglasses, go for thin, light frame. They look amazing against black, blonde or red hair .
The true secret is to match the color of the tortoise shell to your skin tone and features . The brown-honey tones go really well with blue eyes. Those with a lighter complexion, opt for classic brown tortoise shell frames , as they will look great on you.
If you have a darker complexion , choose colored tortoise shell frames. Vint & York's stellar frames in a red tortoise shell pattern are fun and will certainly set you apart from the rest.
Tortoise shell also looks amazing in a variety of different colors, such as pale pink, royal blue, mustard, and cream.
To ensure you find the ideal tortoise shell frames for your face and style, you'll have to try on a number of different options. But at Vint & York, there's certainly no shortage of vintage-inspired tortoise shell glasses to try. You have plenty of choices at the ready, making it nearly impossible not to find the one that looks perfect on you.
Choose: Classic or Modern?
For a true vintage-inspired fashion look, go for a pair of classic tortoise shell glasses. Their timeless look will see you through many seasons.
Keyhole bridge glasses in caramel brown will give you a studious, preppy look while adding a touch of glamor and spunk.
For a modern variation of tortoise shell try a pair like our subtle aviator inspired sunglasses frames . They make a killer statement with a wholly modern vibe. Are you ready to leave behind black frames and choose tortoise as your new look?
Don't forget you can test your favorite Vint & York tortoise shell frame using our Virtual Try-on app. You'll know the perfect look when you see it. Give it a go today.
Don't miss out the Vint&York tortoise shell eyewear collection !