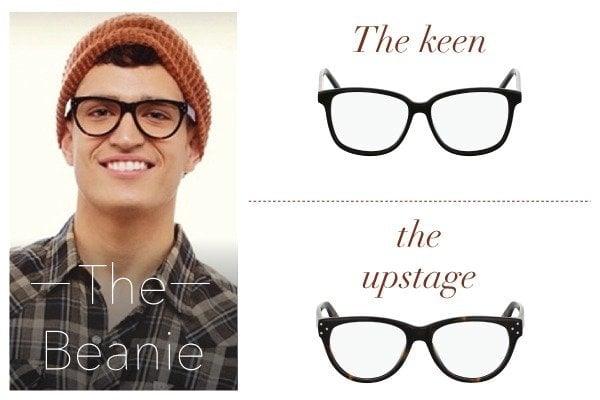 Men's Illustrated Guide to Hats & Glasses – Vint & York
< Interested in our hats and glasses guide for women instead? We have that too!
Although glasses and hats are a match made in heaven, not everyone feels like they know how to pull off the look. Sometimes wearing a hat and a funky pair of frames can be overkill, making your entire look appear too busy or confusing. On the other hand, when men do the hat and glasses combo up right, you can really pull off one of the coolest looks out there!
So how can you strategically wear your hat and glasses together and pull off the look while keeping it looking effortless?
What hat style are you?
Before taking a closer look at how to wear hats and glasses, think about what kind of hat best suits your personal style. You have dozens of options from which to choose, but we here at Vint & York narrowed it down to a handful of the hottest hats for men.
If you're into that Boho floaty look, pick floppy wide-brimmed hats, oversized fedoras, and even slouchy berets. If you're more of the preppy type, go for boaters, berets, small fedoras, and breton hats. And for you guys who love all things vintage, there's nothing greater than structured wide-brimmed hats, cloches, fascinators, and small pill-box hats to make a statement.
If you don't really know what hat styles are out there, here's a winter/summer list for men!
Winter Men Hats
1. Beanie
With its military history, the beanie has a number of different names for it depending on your region. The variety of names include the stocking cap, tuque, bob cap or even burglar gap.
For hipsters and the casual guy, the beanie is a must-have winter fashion accessory.
Geek up your beanie with a pair of hipster-inspired thick rimmed frames and become a real piece of eye candy. This is definitely one of the top go-to looks for wearing beanies with glasses.
2. Ushanka
Get full head coverage with this fluffy, warm Russian-style winter hat for men. Then go one better by getting your swag on with a long overcoat and a pair of chunky military style boots. Wearing men's glasses with big winter hats means opting for strong frames that can hold their own against the bulk.
Alternatively, you can try a different style that works better for longer, narrow faces.
Pick a pair of wireframe metal, aristocratic glasses with a tortoiseshell pattern to go with your Russian hat to really accentuate your true gentleman style.
3. Flat cap
A style icon among the British upper class and blue blood, the flat cap has quickly become popular among the alternative Hollywood crowd. A favorite of David Beckham and Ethan Hawke, the flat cap is a quintessential British cap that will add a little edge to your gentlemanly manner. Successfully wearing a flat cap with glasses means opting for frames that have a retro, urban vibe.
Our flat cap wearers suit thick-rimmed, wood-like rectangular glasses .These Vint & York designer glasses add a bit of urban cool to the countryside hunter's look.
4. Felt trilby hat
If you want to really show your individuality and your cool care-free style, a felt trilby teamed with a casual tee and an open dinner jacket in jeans is the hottest young man's look. Who said men can't do urban chic? Make the look even more stylish by pairing your trilby hat with glasses that add a touch of nerd or touch of jazz.
Our trilby wearing man is naturally cool and his effortless style is well put together. Geek it up with a pair of Vint & York geek eyeglasses or get them wondering who you really are by going incognito in a pair of oversized dark vintage inspired sunglasses .
5. Deer stalker hat
The deer stalker hat for men is not just for deer stalkers. This cool casual hat is for the ultimate hipster who likes to make a scene through his style. Pulling off a deerstalker hat with glasses means opting for sunglasses that add a dash of style while protecting your eyes from the snow-white winter glare.
Play it cool with a fashionable pair of mirrored aviator glasses . For a more daring look, opt for color-popping rims.
A similar alternative is The Navigators, the square brother of The Aviators. Both designer frames are available right here from Vint & York.
The teardrop lens shape has morphed into a square form that is bigger and more imposing. Get it here !
Summer Men Hats
1. The Panama hat
Otherwise known as the toquilla straw hat, the Panama hat is a traditional straw hat hailing from Ecuador. Originally made from plaited leaves of a native plant, this stylish hat is a must-have for men who have a boyish charm and loads of charisma. The Panama hat wearer is simple in style, yet he still stands out in a crowd. In fact, his simplicity is what contributes to his look-at-me vibe, as he gives off a down-to-earth and confident air. With these traits in mind, it's clear to see the Panama hat pairs well with men's glasses that add a dash of intrigue to his already self-assured style.
Wear a plain neutral Panama hat with dark lenses and patterned frames . If you're not ready for an all-over pattern, decorated lens arms will suffice. Animal prints are huge once again, and this time, it's even amongst men! Shop for the perfect Panama hat glasses at Vint & York now.
2. Trilby hat
We originally met the felt trilby hat in our winter collection of men's hats, and now we're getting up-close and personal with the summer version. Either way, the male trilby wearer knows his style and wears his clothes with attitude. Think Greek meets Italian man and be sure to add cotton, tweed, and straw to the equation to really pull it off. Whether guys are wearing a winter trilby or summer trilby look, geeky glasses are the perfect pick for this hat style.
The trilby wearer looks great in a pair of oversized square geek glasses that adds a dash of trendy to an otherwise classic look.
Alternatively, you can choose a pair of clear square geek glasses that go marvelously with your trilby hat. Geek glasses and hats are the bomb, and you can find the top designer glasses frames at Vint & York to rock your version of the look.
3. The pork pie hat
This classic hat is enjoying a huge revival this year, and Vint & York has just the designer glasses to go with it.
This style is for the man who likes to dress up, but with a bit of a hipster edge . The pork pie hat man is a man who favors blazers, skinny chinos, and a pair of classic boat shoes. The pork pie hat is incredibly versatile, and it pairs well with just about any style of glasses you choose. Keep the hipster vibe going by wearing your pork pie hat with glasses featuring a browline frame.
Wide rectangular sunglasses and semi-rimless browline frames complement the pork pie hat well, yet this hat can go with any glasses. That means the world is yours! Browse through the full selection of Vint & York men's frames and take your pick to create your own one-of-a-kind style.
4. Baseball cap
The baseball cap is a common hat worn by men and women. It's also one of the few accessories that transcend all styles. Sporty and casual guys like to keep it real by simply throwing on their worn baseball cap, even if the rest of their duds are on the dressier side. Baseball caps seem to fit with just about any outfit, anywhere. This makes wearing a baseball cap with glasses incredibly easy. You can again pick nearly any style of sunglasses or eyeglasses you desire.
The baseball cap is ubiquitous and, luckily for you, can match nearly any style of glasses. Choose to pair your baseball cap with rectangular geek eyeglasses or choose a pair of classic aviators . Either way, if you're going for designer men's glasses from Vint & York, your choice is going to work.

While our Men's Illustrated Guide to Hats and Glasses give you a firm foundation and solid starting point for looks that work, don't let us hold you back! Wear your hats with confidence without limiting yourself to only safe combinations. Go for a bold and daring look.
If you're not sure if you can pull off certain hat and glasses combinations, you can test the look before you buy. Grab your favorite hat, browse the Vint & York collection to find your ideal men's glasses frames, then head to our Virtual Try-On page . Give it a go to find the hat and glasses combination that captures your unique style.
Are you ready to match and mix frames and hats?
< Interested in our hats and glasses guide for women instead? We have that too!