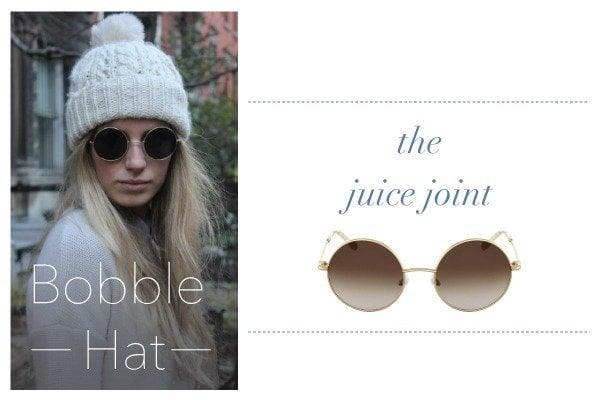 Women's Illustrated Guide To Wearing Hats And Glasses
< Interested in our hats and glasses guide for men instead? We have that too!
Although glasses and hats are a match made in heaven, not everyone feels like they know how to pull off the look. Sometimes wearing a hat and a funky pair of frames can be an overkill, making you look too 'busy'. However, if done right, you can really pull off one of the coolest looks out there!
So how can you wear your hat and glasses together and pull off the look while keeping it looking effortless?
What hat style are you?
Before taking a closer look at how to wear hats and glasses, think about what kind of hat style represents you.
If you're into that Boho floaty look, pick floppy wide brimmed hats, oversized fedoras and even slouchy berets. If you're more of the preppy type, boaters, berets, small fedoras, and breton hats are excellent choices! And for those who love all things vintage, there's nothing greater than structured wide-brimmed hats, cloches, fascinators, and small pill-box hats to make a statement.
If you don't really know what hat styles are out there, here's a winter/summer list for women!
Winter Women Hats
1. Bobble hats
The ultimate ski bunny's accessory, bobble hats were huge in 2014.. and they're set to stick around in 2015! You'll look super cute hitting the slopes in the Swiss Alps this year with the must-have hat.
While bobble hats are pretty versatile and can complement almost any style of eyewear frames, pick up a pair of larger frames sunnies or a classic old school retro square shape sunglasses . Oversized sunglasses aren't just for the beach.
Larger frames work fantastically well on the ski slopes blocking out those harmful UV rays and the harsh wintery weather conditions, not to mention you'll look like ski royalty.
2. Beanie
Gone are the days when beanies were associated with just guys! Some of the coolest women around the world are wearing them with glasses. Opt for the grunge black beanie or be a little bit more daring with a cool contrast colored beanie that'll make you stand out on the grey wintery streets of NYC.
Wondering what frames go well with your beanie? It's simple. Go for a pair of old school retro sunglasses that will never go out o style. If you're just in need for a pair of eyeglasses, pick up a simple hipster frame ,
3. Fedora
Whether you love them or hate them, fedoras are here to stay.
These hats are classic and perfect for a geek chic look , paired with oversized sultry retro sunnies .
If you're after a more serious look , team your fedora with a pair of understated round wire framed eyeglasses or amp it up and rock your geek look with a pair of thick dark rimmed eyeglasses .
4. Fur hats
Russian Cossack style hats are huge on the blustery streets of NYC right now. Whether you've got a quirky fashion sense or like to take inspiration right off the runway, the oversized fur hat is one fun accessory that is ideal to pair with sunnies or eyeglasses.
Fur hats go really well with dramatic, bold full frame shades in vintage cat eye shapes or elegant round, circular frames .If you need eyeglasses, go for simple and classic geek glasses without embellishments- after all, your hat is a statement in itself!
5. Floppy eared fur hats
If you're a faux fur fan but can't really commit to the elegant look, this hat should be your pick. Add to the playfulness with a nerdy, basic black square dark sunglasses with clear lines and a solid silhouette.
6. The Bowler
When we think of the Bowler hat, we automatically think about the vintage English gentleman, but now it's back and it's not only men who are wearing it! Fashion conscious women finish their outfit with this hat thanks to its versatility.Depending on the outfit, they can be laid back and the perfect addition to a hipster outfit, or add a classic touch to a casual dress.
The typical bowler hat goes well with rounded vintage inspired glasses , like this glamorous metal wire frame pair of John Lennon inspired glasses .
7. Beret
Add a little bit of French chic to your wardrobe with this long adored French fashion icon, the beret. The beret suits almost anyone, but it's perfect for those who're looking to add a bit of sophistication to their winter wardrobe.
Go for feminine classic pairs, like the cat-eye or round glasses to accentuate a Parisian delicate look.
Summer Women Hats
1. Oversized floppy hat
"Freaking cute" and "oh, so chic!" are only two ways to describe this ultra feminine sun hat that will put you ahead of the fashionistas in the summer months.
When it comes to pairing sunglasses to your floppy sunhat, it's a case of "the bigger the better". No woman's wardrobe is complete without a dark pair of mysterious looking oversized sunglasses . If Audrey Hepburn could pull it off, so can you!
2. Cowboy straw hat
Whether you're frolicking in Marbella or paddling in the rock pools of Santorini's picturesque shores, there's one accessory you need to go with your cool caftan and that's a cowboy, or should we say cowgirl inspired straw hat , a staple this coming summer.
To go all western this summer, there's only one style that you should be wearing, your trusted wireframe aviators !
3. Straw fedora
Go get yourself a tightly-woven straw fedora to throw in your beach bag and laze by the pool. It looks super cute with anything from a pair of boyfriend jeans and an oversized shirt to a more refined maxi-dress. Add a bit of a color pop with a fun bright ribbon around it.
Team your straw fedora hat with a pair of fun wooden framed sunglasses to really make a statement or go for a sexier oversized style .
Wear your accessories with confidence and don't be limited to safe combinations! Put your hat on and try our collection the Vint and York Virtual Try On Glasses !
Are you ready to match and mix frames and hats?
< Interested in our hats and glasses guide for men instead? We have that too!