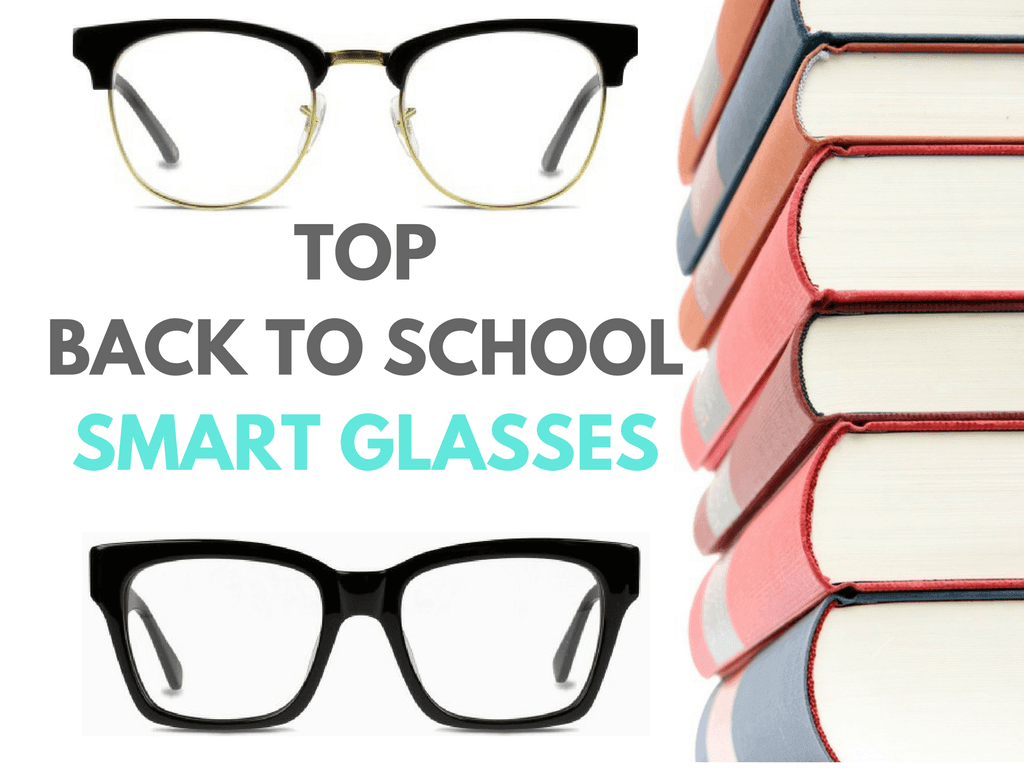 Back-to-School Glasses for Smart Fashion – Vint & York
So summer's end is nearing, and the new academic year is right around the corner. That means it's time for shopping for back to school outfits: what are you going to wear? Obviously, you want to wear something that gives a great first impression while making you feel smart, polished, confident . New eyeglass definitely fit the bill. Not only do they achieve all of the above, but they also help you learn.
To make things as easy as possible, we here at Vint & York rounded up more than 15 campus-ready looks with frames to suit a number of personalities. So get ready to receive an A+ in style and get ahead of the class with these smart glasses styles.
P.S. While some may wonder why people choose to wear glasses if they don't need them, these eyewear styles tell you why. These Vint & York designer frames are so smart that even people with perfect eyesight may want to give them a try to update their look.
And if you feel your eyes get tired during the semester, go for a pair of Vint & York reading glasses more easily make it through those heavy textbooks.
Stylish Smart Glasses for Your Back-to-School Outfits
If you want to face the new school year with a fresh look, you need to add a statement eyewear piece to your wardrobe. Eyeglasses are an essential accessory for your college style , not to mention a fabulous choice for creating a signature look. Practical, versatile and stylish, eyeglasses go with nearly any outfit you want to wear.
So, whether you are a college fashionista , planning on premiering your brand-new fall buys, or a casual, laid-back guy in need of a new pair of eyeglass frames , discover the best picks for back to school eyewear trends.
Want to look the best in your classroom ? (Who doesn't?!) Check out some of our top picks:
1. The All Dressed Up Professional
This year is all about you and your success. You want to score an internship , impress your new teachers or focus on your start-up . Whatever your specific plans for the new school year, the overall goal is to move a bit closer to your dreams.
That's why you put a lot of thought into your smart, professional look. Finding the perfect frames to convey this goal is an essential on your checklist.
Goal-oriented students need to pair their first-day ensemble with glasses that give them a polished look . You can achieve exactly that with a professional back-to-school outfit topped off with a sophisticated pair of frames.
The Clubmasters frame is the go-to accessory for a grown-up feel. If you've decided to dress like an adult and take the professional style approach, then these frames definitely need to be part of your everyday wardrobe.
Professional Glasses Ideas for Women
There's no better accessory to make you look determined, serious and professional that a pair of high-quality glasses.
Cat-eye glasses , thick frames or Clubmaster glasses are a must have if you are prepping to make your first steps in the professional world. Not only are they sexy and feminine, but they emphasize your facial features, and demand respect.
A nice pair of designer glasses will liven up your face in an instant. This can cut down on your prep time each morning, making getting ready for school a breeze. They also complement your face and your eyebrows.
How to wear these glasses with your fall outfits
A professional look requires savvy shirts, heels and dresses. For the greatest fashion statement, mix and match colors. Remember: you're still in college; it's not yet time for the dull black and white . Don't be afraid to go for a V-neck blouse or striped shirt. Try patterned dresses and colorful heels.
Professional Glasses for Men
For the future business partners, a rectangular shape glasses frame in bright colors will add a pop of style to the traditional suit and tie.
How to wear these glasses with your fall outfits
Get all dressed up in a serious, professional manner. Break out the button shirt, sweater and suit, and get ready to impress your teachers and managers alike.
In terms of accessories, a watch is essential. Bowties are optional. If you carry a laptop, a simple, solid color backpack will serve you well.
2. The College Fashionista & the Style Enthusiast
You have literally waited all summer for this moment. The back-to-school-outfit craze, the fall fashion trends and all the accessories that come with them. It's time to come up with those cool back to school outfits. The best finishing touch can be as easy as it is effective if you top off your outfit with designer eyeglasses.
These oversized cat-eye glasses can jazz up any type of simple outfit – or add extra panache to a bold one.
Stylish Fashion Glasses for Women
One of the t op trends of this fall is the tortoise shell pattern eyeglasses . The vintage style is a testament to your knowledge of fashion and a keen sense of style.
The tortoise shell pattern is beautifully timeless, and it's also making a comeback this fall. If you are a true fashionista , take heed. Tortoise shell glasses have become the must-have accessory in the world of fashion.
How to wear them with your fall outfits
Your eclectic style will get a major boost once you add these beauties to your collection. Tortoise shell frames come in a range of colors. Choose fall colors for your back-to-school selection, with options that include orange, brown or yellow.

Mix and match with accessories that align with the tortoise shell tone. For example, brown and honey tortoise shell frames look dashing with gold necklaces and earrings.
Stylish Fashion Glasses for Men
Here's where style meets imagination.
You have been probably wearing aviator and oversized shades all summer. But now you can include them in your back to school outfits with these classroom-appropriate takes on your beloved sunglass shapes .
The mix between tortoise shell frames and the aviator silhouette creates a new style that is bound turn heads.
How to wear them with your fall outfits
Break out the fall shirts, cardigans, and coats. The tortoise shell colorway goes best with solid colors, so you might want to consider adding more solids to your wardrobe.
Stylish and dapper, the tortoise colorway is a fantastic choice for any fashion enthusiast .
3. The Cute Geeky Girl & The Classic Nerdy Gentleman
The geeky, nerdy styles have its advantages. For starters, you always look like the person who has all the answers. It's also become an endearing and rather attractive look. So get ready to storm the library with this fresh pair of specs.
Funky Glasses Ideas for Women
Forget what you've been told—glasses don't have to be so serious. Dress up a basic outfit with a pair of fun colored frames that give you a pretty pop of color.
Ladies, if you want a cute college outfit that gives you the smart, geeky look , you need a pair of thick, round glasses frames .
Opt for a pair of round thick frame glasses , like the Vint & York Owl , and you will turn heads around campus. These geeky eyeglasses are playful and fun. You can easily mix and match them with many back to school outfits without missing a beat.
How to wear them with fall outfits
Try on a school girl skirt , colorful high socks and a pair of Oxford shoes . For the top half of the outfit, you can go for a white top or shirt, or mingle in cozy scarf or sweater.

Nerdy Glasses Ideas for Guys
Guys, you can emulate the cute nerd style with a pair of oversized, square frames . This look is all the rage and just the right frames will make anyone want to sit next to you in class.
This good guy look will make a great first impression, making you a favorite of both colleagues and teachers alike. Go with tortoise shell, autumn-ready colors to show your unique fashion sense .
How to wear them with fall outfits
Nerd glasses work best with elegant outfits. Style smart nerd eyeglasses with an equally smart outfit . Opt for buttoned shirts, ties, and tweed for a more professional look, or jean jackets and pre-washed jeans for a dash of casual. Don't forget to comb your hair with a notable part on the left or right.

4. The Casual Laid-Back Student
Pretentious outfits have never been your cup of tea. Neither has tea. You feel most relaxed enjoying a drink while hanging out with friends. Your wardrobe consists mainly of T-shirts, jeans, boots, and sneakers.
You love the casual life. It fits you and we understand. But just because you're laid-back in general doesn't mean you can't make a stellar impression in the new academic year. Vint & York glasses are your best back-to-college-accessory . You get a new look without having to try too hard.
Casual Trendy Glasses for Women
Choose a simple clear frame because it goes with every single one of your fall outfits .
Clear frames are stunning, and they also complement your facial features . Because they have such a gorgeous look, you're sure to get a lot of attention and admirers.
How to wear them with your fall outfits
The clear frame is exceptionally versatile, which means it can be easily matched with all your fall outfits .
Casual, trendy glasses for women align well with jeans, blouses and leather jackets. But you can pretty much wear them with anything. Just wear what makes you feel good, and the frames will do the rest.
Casual Glasses for Guys
College guys are known for loving their beer drinking and their relaxed outfits. Often consisting of only an unbuttoned shirt and a pair of loose pants, the casual style is something of a trademark for the college man.
We recommend a casual pair of eyeglasses to go with your standard back-to-school-outfits . Vint & York has just the right look you need.
The Vint & York Astor browline rectangular eyeglasses are stylish and discreet. They are incredibly lightweight, made out of metal and acetate. So light, you won't even know you are wearing them.
How to wear them with your fall outfits
Wear what makes you comfortable, but don't forget the accessories rule: too much is not good. Too many accessories can lead to overkill, with an outfit that's confused and busy. It's better to carefully select a few key accessories that work together to make a smart statement.
A hat, for example, looks fantastic with the Vint & York Astor's narrow frames . A cap would look equally as dashing.
When matching your outfits to this frame, take colors into consideration. A white, black or red shirt will go well with the black browline eyeglasses , while a green one won't.
5. The Fit Sports Lovers
College is a great place to engage in sports. Some college students are specifically focused on sports as part of their college career, while others just like to wear comfortable sports outfits .
Regardless of which type are you, sports eyewear trends are hot. They feature a thick, resistant frame that is able to withstand shock and an active lifestyle.
Sporty Glasses for Women
Our favorite sporty glasses for women consist of those with square, oversized, thick frames . Not only are they bound to make you look good, but they're also designed to survive in your bag.
While we don't advise keeping your glasses in your bag without an eyeglass case, we know how hectic college life can be. Your eyeglasses may end up in your bag without a case, or in other places where they can be damaged — like on your face after you fall asleep. Choosing a strong frame is a wise idea to ensure your glasses stand up to whatever comes their way.
How to wear them with your fall outfits
The colorful colorway of sporty eyeglasses for women makes it ideal for sports outfits . The Vint & York blue and yellow frame can be matched with nearly any tracksuit and sneakers. If you're thinking about joining a sports or cheerleading team, these glasses can help you give it your best shot.
You can also match this colorful frame to your casual outfits, especially those that involve wearing sneakers or sports/college jackets.
Sporty Glasses for Guys
If your top fall outfits involve raincoats and shorts for your time in the gym or on the field, you'll appreciate a thick and durable acetate frame you can rely on.
You might not spend all the time in the gym, but even outside of it, you need an eyeglass frame that fits your personality and style.
The Vint & York rectangular browline eyeglasses can also be a terrific accessory for your lectures and seminars, as they also give you a smart look.
How to wear them with your fall outfits
Besides your regular sports outfits, you can style these frames with V-neck T-shirts and sweaters, casual jeans and college jackets.
When it's time for exams, pair your designer glasses with a crisp shirt and cardigan for a super smart look. That way you'll have the right attitude and vibe for acing the tests.
Back To School Outfit Ideas for Teachers
We just couldn't leave out those who dedicate their lives to help others build theirs. Thank you, teachers! Teachers set an example for their students, which makes it crucial that they look the part.
We love the teacher look . It's simple yet elegant, practical but with a note of distinction. Since a lot of professors wear glasses , we decided to help them update their fall outfits .
The wood finish eyeglasses are an ideal fall style for professors. The look aligns fabulously with tweed jackets, ties and Oxford shoes.
These vintage-inspired Vint & York frames also go perfectly with the fall weather. And imagine how keen they'll look sitting on your desk? It's surely time for professors to give these designer glasses a try.
Female professors have an equally amazing option here at Vint & York. We recommend an ultra-feminine frame , such as the Cat's Meow , that will convince students to never forget their assignments.
Because this season's top colors are dark, choose frames in a softer, lighter hue to add contrast to your outfits.
Though the cat-eye shape will make you look more serious, the soft colors will suggest you are open to compromise. You'll have a look that makes it clear that students can always visit you for advice.
Teachers Special Discount
Vint & York truly appreciates teachers, and we're showing our appreciation this fall with a special discount code teachers can use for their back-to-school eyewear purchases .
Closing thoughts
Now that you have a sold rundown on the top fashion trends for back-to-school outfits , and the designer glasses that go with them, all you need to do is start shopping. We hope you give some of the cool fall outfits ideas and eyewear picks a try. Remember that you can wear any of the Vint & York frames with non-prescription plano lenses or prescription lenses as you desire.
If you haven't quite yet discovered your favorite pair, take a look at our optical eyewear collection to find your perfect back-to-school eyeglasses style today.