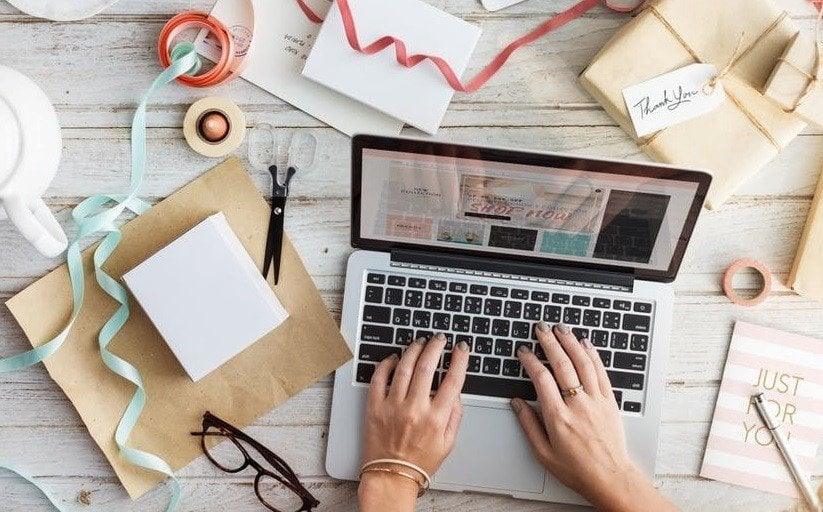 Foolproof Guide to Buying Prescription Glasses Online: 5 Easy Step to Get Frames That Fit You From the Get-go!
Buying glasses online can seem daunting at first, that is if you've never done this before. Since going to a store and trying on glasses isn't always an option, at Vint & York we've created a simple and full-proof, streamlined process on how to order the best eyewear that fits, with no risks, while following 5 clear steps from start to finish.
If you are afraid that buying online glasses won't turn out the way you wanted or they won't fit you well, you've come to the right place to find out everything you need to know about how to replace your current prescription glasses to suit your face shape and style to perfection.
Wondering if buying a pair of nonprescription blue light blocking glasses will help as you experience an increase in screen time activity? Wonder no more and safely purchase your PC protection eyewear to continue your online activity, either working from home or chatting with your loved ones via video calls.
If you've never ordered online before and your go-to buying approach is in-store only, stick around and experience the online edition of "brick and mortar" brought to you by Vint & York.
Here are the 5 steps to buying glasses online:
1. Identify the Right Frame for Your Face
Step 1 is identifying the right frame that will fit your face perfectly – that means finding the right size and the best style to enhance and balance your facial features.
1.1 Find out Your Glasses Size
If you've worn glasses before, you can check out your current frame to find out your measurements. The measurements are usually marked on the inside of the temple arms.
If you've never worn glasses, know that there are usually three categories of frame sizes: narrow/petite, medium and wide.
A narrow face will usually wear glasses between 115mm and 129mm. The number of mm is the sum of the lens size and the nose bridge.
Every frame on the site will have its own measurements – you can find them in the measurements section, that describes the dimensions for each individual part (lens size, nose bridge size, arm temple size).
Let us share an example: in the picture below, the LUNA cat eyeglasses have the following dimensions: 148mm in total, which is the sum of each lens width – 53mm and the nose bridge distance – 18mm. The arm (temple length) is 145mm.
At Vint & York, we're all about helping our customers find a pair of glasses that feel completely tailored, with curated categories of:
Measurements vary from frame to frame, that is why it's very important to check the size and make sure it will suit your face shape.
If you don't know your face size and you also don't have an old pair of glasses that you can use as a reference, here is how to find out your correct glasses measurement:
Step 1: Use a flexible tape to measure the distance from the right to the left temple. For an exact measure, don't use a ruler. It won't do the trick, as the hard plastic/wood won't stay flat against your face.
Step 2: Begin with your forehead. You will need to measure it at the widest point, from hairline to hairline. Don't forget to write down the measurements.
Step 3: Go ahead and measure your jawline at the widest point, which is about 1 inch (2.5 cm) down from your ears.
Step 4: Find your face width by choosing the larger number out of the two measurements you just took (forehead width and jawline width).
Step 5 : Use the width measurements to pick the right frame for your face size.
For an average of 110 mm to 125 mm in width, go ahead and pick the narrow framed glasses. Medium faces will measure between 125 mm to 135 mm in width and as for the wide face category, all measurements should pass the 135 mm mark.
1.2 Pick a Frame That Matches Your Face Shape
Now that you know what measurements you need for your frame, let's move on to the style of your choice. You can pick any style you'd like, as long as you're happy with how it looks on you!
However, if you're more concerned with matching or balancing your face shape, this will be the next step you need to consider in picking your frame style.
Depending on what features you want to put forward, certain frame shapes will compliment your face shape and face features more than others.
For example, round face shapes are complemented by uplifting cat-eye shapes or square frames that balance the roundness and bring contours to the face, while oblong, narrow faces are flattered by round glasses that take attention away from the face's height.
Whatever your face shape may be, there's surely a right frame for it. If you don't know what your face shape is, head on to our guide on choosing the right styles for your face shape , where we explain in detail how each face shape looks like.
After you understand your face shape, you can simply go to our curated face shape glasses collections , which only feature frames that match certain face shapes:
1.3 Try the Frames Virtually, With Your Phone or a Picture
Once you've selected a couple of frames, you can now try them on virtually. It's especially helpful if you're still not sure if your frame of choice is right for you.
At Vint & York we offer one of the best Virtual Try-On tools on the market that lets you see how the glasses would look on your face just like a virtual mirror.
Yes, it doesn't compare to trying out the frames in our NY store, but it's very, very close by! Our technology will give you a very similar experience with what you would do in-store.
To access the virtual try on, just click the Try Them On button on each of the frames' page and upload a picture of choice or enable your screen camera (whether phone or from your laptop), for a live rendition of glasses on your face.
In less than 2 seconds, your screen will turn into a virtual mirror via your web or phone camera, so you see how any of the frames match your face.
2. Select the Right Lenses for Your Visual Needs
Your journey to shopping the right pair of glasses will continue to step 2: customize your lenses to your eyesight needs.
Whether that means Rx correction, a b lue-blocking filter for PC work with no prescription, or a pair of progressive readers, there's a wide range of types of lenses, treatments and lens materials that will best suit your needs and lifestyle. And we at Vint & York have them all!
2.1 Pick Your Preferred Type of Lenses
Vint & York offers prescription lenses such as single vision, readers, as well as progressive and bi-focal lenses. Select which type of lens you need depending on your prescription and visual specifications.
Learn about all the types of lens you can choose from. Opt for the ones that will be of service depending on your daily activity.
Single vision lenses
If you're nearsighted or farsighted, select the proper option, whether it is for distance or reading.
Single vision lenses usually come in different strengths with the standard durable polycarbonate option that features impact-resistant functions and is perfectly safe to wear for everyday activities. This type of lens is included in any Vint & York frame's price.
The single vision type is also available in high index materials that are recommended for higher Rx and can be fitted into any of the available frame styles upon request.
All optical single vision lenses are cut and produced by our factory with a vigorous multi-point quality control system. After the order is placed – lenses are surfaced according to your prescription in our own laboratories.
Reader lenses
Reading lenses help with everyday near vision correction. This lens option is created for those who need glasses only for reading purposes. This type of lense is included in any Vint & York frame's price.
There is also an option of making your reading glasses with progressive lenses. You can find a collection of frames outfitted with simple readers lenses here: Readers Collection .
The selection of lenses mentioned below are custom, and will come with an additional cost:
Bi-focal or Progressive Lenses
Choose bi-focal lenses if you need help seeing both up close and far away.
Progressive lenses are a multifocal lens to help correct three fields of vision with no line separating. They correct distance, intermediate as well as reading vision in one lens. For this type of lens, the additional fee starts from $160.
We offer Digital Progressive lenses as well as high index material progressive lenses.
Photochromatic lenses
Going from indoors to outdoors daily? Choose the photochromatic option with clear lenses that will darken in direct sunlight. The high-quality protection coatings offer more clarity and the ultimate HD vision. Opt for this option for an additional $120.
Find everything about our selection of lenses here!
Biochrom lenses
Biochrom lenses are tinted colored glasses that come in red, blue, yellow and green.
This type of tinted lens is proven to positively impact our mood, performance and sense of well-being. They are featured as clip-ons and are a great option for indoor use. Depending on the color you will pick, they can encourage focus when working on your computer, help with migraines and light sensitivity, or energize how you feel. This type of lens comes at an additional price of $100/pair.
When ordering any of the custom lenses above (which are non-returnable), write to us to ensure that your order will be risk-free. Since our policy can't accommodate returns for custom prescriptions, we will send your chosen frames before you order the lenses, with a free return label and clear instructions to measure your PD .
Once you decide upon the frame of choice, the custom lenses will be added to the frame and have them delivered with free shipping. This way, from Virtual Try-On to online eyewear consultancy and home try-on, you can tick all measures in selecting the right pair of glasses for you.
2.2 If You Don't Need a Prescription, Choose "Clear / Plano" Lenses
For those with great eyesight who just want a pair of frames for their look and for anti-glare protection, the nonprescription option will be the lens of choice.
Just choose "non-prescription" or "plano" lenses – this type is usually featured for no Rx glasses.
The traditional, transparent lenses will come with special protective coatings that will help our vision and keep it 20-20 – at no extra cost.
If you want to receive frames with no Rx, you have two options. Optical frames will include anti-reflective polycarbonate lenses when you choose the option "I plan on wearing blank lenses". The option "I plan on replacing the lenses" is recommended if your optician or doctor plans on replacing the lenses. Those lenses would be a demo lens or plastic.
2.3 Add Lens Treatments and Coatings
Once you know what type of lens you need, go on and choose your preferred option of lens treatment. At Vint & York we feature the most popular lens coatings (Anti Reflective, Anti Scratching, UVA/UVB protection) for all lenses, and the blue light blocking treatment we charge a small fee.
Here are the lens treatments that are included for free in any of our glasses:
Anti Reflective Coating
This coating is Reducing glare and prevents eye strain and long-term damage to your vision. The anti-reflective coating improves eyesight and makes your eyeglasses look more attractive as you style them for your look.
Anti Scratch Coating
Lens durability is very important. That's why we use a high-quality durable Anti-Scratch Resistance Coating that has the best impact-resistant function and helps your lenses hold up better against wear and tear.
UVA/UVB Protective Coating
This protective coating will insure the safety of your eyesight as you're daily exposed to UVA and UVB radiations throughout the day.
You can order the following lens treatment at a $50 cost:
Blue Light Blocking Lenses
If you're looking to protect your eyes from the harmful blue light emitted by the digital devices, our Eyefend blue light blocking lenses will keep your eyes healthy while using your phone, computer, or tablet. Add this protective filter to your eyewear with an additional fee of $50 .
Discover more about the benefits of blue light blocking glasses here.
2.4 Choose Lenses Material
In recent years, advances in technology have resulted in breakthroughs that now allow everybody to enjoy lenses that come in long-lasting, super practical materials.
All Rx lenses are available in a number of materials, to accommodate a wide range of prescriptions and lifestyles.
Our lenses are available in Polycarbonate, High Index (1.67), Super High Index (1.74), Trivex and CR39. Digital lens options are available upon request as well – to provide a larger vision area with an HD feel to your vision.
Here are the three types of lenses materials you can pick:
Lite, thin & impact resistant
High Index Single-Vision Lenses are made of a thinner material then a polycarbonate lens. With stronger prescriptions, the lens becomes thicker and heavier making them harder to fit the frame correctly.
A high index lens is lightweight and thin to fit the frame properly. Our high index lenses are available in 1.67 index and 1.74 index.
Super thin 1.67
High Index lenses or an index of 1.67 accommodate those with a Rx higher than 3.25. Since they are made from a thinner material than a standard polycarbonate lens, they will properly fit your frame as well as not weigh your frame down. A high index lens of 1.67 is also available in a digital lens as well that offers "HD" feel to your vision.
Ultra thin 1.74
For an even thinner lens, a super high index lens of 1.74 is available as well. An index lens of 1.74 is an even thinner lens to accommodate those with an even higher prescription. Super high index lenses are also available in a digital lens that provide more clarity to your vision.
Can't find the lenses you need?
For other types of lenses please contact us at (800) 846-9915. We are happy to help you match your glasses frames with the best lenses!
All done? Move on to the next step!
3. Know Your Prescription
This is the step when you'll have to insert all information found on your current Rx prescription. We highly recommend that your latest prescription is no older than one year.
For other health-related issues (i.e. diabetes), we recommend you get in contact with our team of specialists before placing the order.
3.1 Insert Prescription Details
After you select your preferred enhancements, input your prescription. Start with sphere, cylinder, axis, and finishing with your PD (Pupillary distance). Upload your prescription to make sure you're not missing any information.
In case you don't know your PD, we will use an average PD, or you can head on to our guide on how to measure your PD online , with a simple credit card. We can also measure your PD at the end of the checkout with a special app.
3.2 Forgot or Lost Your Prescription?
If you don't remember your eye measurements and the details on your prescription, we can help. Send us your old eyeglasses and we will analyze them and find out your current prescription.
Our team will make sure your new frames will feature the right lenses for a 20-20 vision and help you continue your daily activities without any optic challenge.
Make sure you check all the details of your eyeglasses in the Summary section. Before heading to check-out, verify all the options you have selected so far.
4. Choose Your Preferred Payment and Shipping Method
At this point, to make sure that the pair of glasses gets delivered to your door, you need to enter all your information.
From name, to address, to selecting the delivery company. If you choose USPS Standard, all domestic deliveries are free of charge.
4.1 Payment Options
At Vint & York, you have several payment options. You can purchase with PayPal, Amazon Pay, QuadPay, or simply with a credit card. Go ahead and insert all relevant information.
With Vint & York you will never pay for shipping and returns, so even if in the unlikely situation where the glasses you ordered don't fit, you can return them to us in a 15 days time frame.
4.2 Using Your FSA/HSA or Vision Insurance
You can use your Flexible Spending Dollars to purchase prescription eyeglasses and prescription sunglasses. If you have an HSA/FSA debit card there is no need to submit any forms for reimbursements.
Our website accepts it as a form of payment. You will use your card just as you would a regular debit/credit card during checkout.
Here are the 4 steps to follow to use your Flex or HSA dollars with Vint & York.
4.3 Finish Checkout
After you finish entering all payment information, go ahead and press Place Order. You will now get an order number and you will be able to track your delivery every step of the way.
From here, you will also receive a series of emails to let you know what part of the delivery process your glasses are in. If you feel lost at any time during the process, contact us and we will be more than happy to help you!
5. Get in Touch With the Customer Support Team
Once your order is completed, it will go to our customer support team who will check it and confirm with you every detail.
If your order is urgent, please mention this to us, and we can turn your glasses in a 1-day turnaround.
For any questions that you may have, feel free to reach out via:
E-mail : [email protected]
Contact number : (800) 846-9915.
We also have a Live Chat from Mon-Fri from 10 a.m. – 5 p.m.
Congrats! If you are here, it means you are ready to shop online for the right glasses for you, knowing from A to Z what to expect every step of the way. No pressure in case you need extra assistance – we're one click away and one-on-one eyewear consultation here .
All Vint & York eyewear comes in premium case & packaging with a 1-year limited warranty. We can't wait to craft the perfect specs for you. Happy shopping! 🙂